Who invented cool lava lamps?
Lava lamps were invented in 1963 by the founder of Mathmos, Edward Craven Walker. Manufactured in the United Kingdom since time immemorial, they are among the few products to have been in continuous production on British soil for more than 50 years.
The first lava lamp model designed was the Astro, followed a year later by the Astro Baby. It is from an hourglass invented by Mr. Dunnett and found in a pub in the English countryside that the idea of the lava lamp developed. Edward Craven Walker spent many years perfecting his invention before manufacturing lava lamps and selling them all over the world in the 1960s and 1970s.
First called Astro Lamps then known as lava lamps, they became the icon of British Pop Design and the Swing Years. In the 1990s, Mr Craven Walker became a consultant for Mathmos and perfected the unique formula of Mathmos lava. His invention was a resurgence of success during these years until the creator's death in 2000.
How cool lava lamps work?
At room temperature, the wax remains at the bottom but as soon as the lamp starts to heat up, the wax then moves upwards. By moving away from the heat source, its temperature drops and it can then drop back down. This phenomenon is called convection.
How lava lamps are made?
The bottles of lava lamps are shaped by robots that place the molten glass in molds. In total, these robots are capable of producing up to 6,000 bottles per hour. After being shaped, the bottles pass through a long corridor to cool down so as not to burst in the next step.
Then, a man pours into each bottle a secret mixture that is known to be partially composed of water, wax, and coloring. After this step, the man places the bottles in a boiling bath that will allow the wax to melt.
How to make a cool lava lamp?
Unlike a commercial lava lamp that works indefinitely, the artisanal lamps shown in the videos below are temporary lamps. They give a similar result visually but do not consist of the same ingredients and stop working when the chemical reaction is complete.
Homemade DIY lava lamp experiment
An ephemeral handmade lamp contains a base of baking soda and oil, while the color bubbles are created by a mixture of vinegar and coloring. This mixture, which cannot be mixed with oil, is initially heavier than oil. By pouring it into the oil, colored bubbles are created that descend to the bottom of the lamp. The chemical reaction between vinegar and bicarbonate causes carbon dioxide to be released by the bubbles, which then become lighter and rise to the surface. They gradually disappear as the reaction occurs until all the vinegar is consumed.
To learn how to make a homemade cool lava lamp, step by step, you will find below video tutorials. The lava lamp manufacturing methods offered in these tutorials are safe because they do not involve flammable products such as alcohol. They can, therefore, be shared with young children without risk. They make it easy to create fun and inexpensive lighting effects to decorate an interior in an original way for an evening or a birthday.
Cool lava lamps you will love
Custom Lava Light Lamp Whatever YOU Want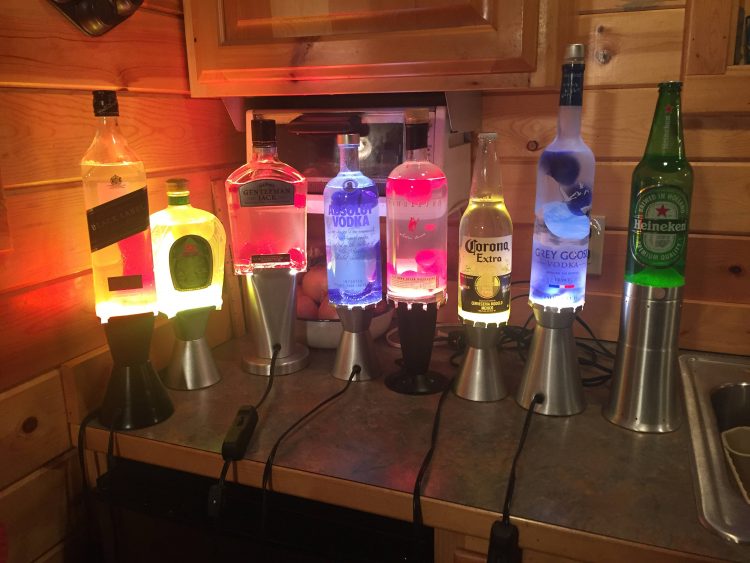 Have you got an interesting bottle? Something I haven't thought of yet? It should be sturdy; designed to handle temperature fluctuations and short drops. It should have a good top, but I have lots of tops I could use if necessary. Adhesive labels tend to hide the action inside, but not always. Colored glass tends to be harder to see through, but that can sometimes be overcome with the right colored lava. What have YOU got for me to try? I love a good challenge! I would love to post photos of YOUR ideas, but that's impossible. You'll have to contact me first!
Buy Now
Retro Rocket Ship Ferrofluid Cool Lava Lamp with Magnetic Black Wax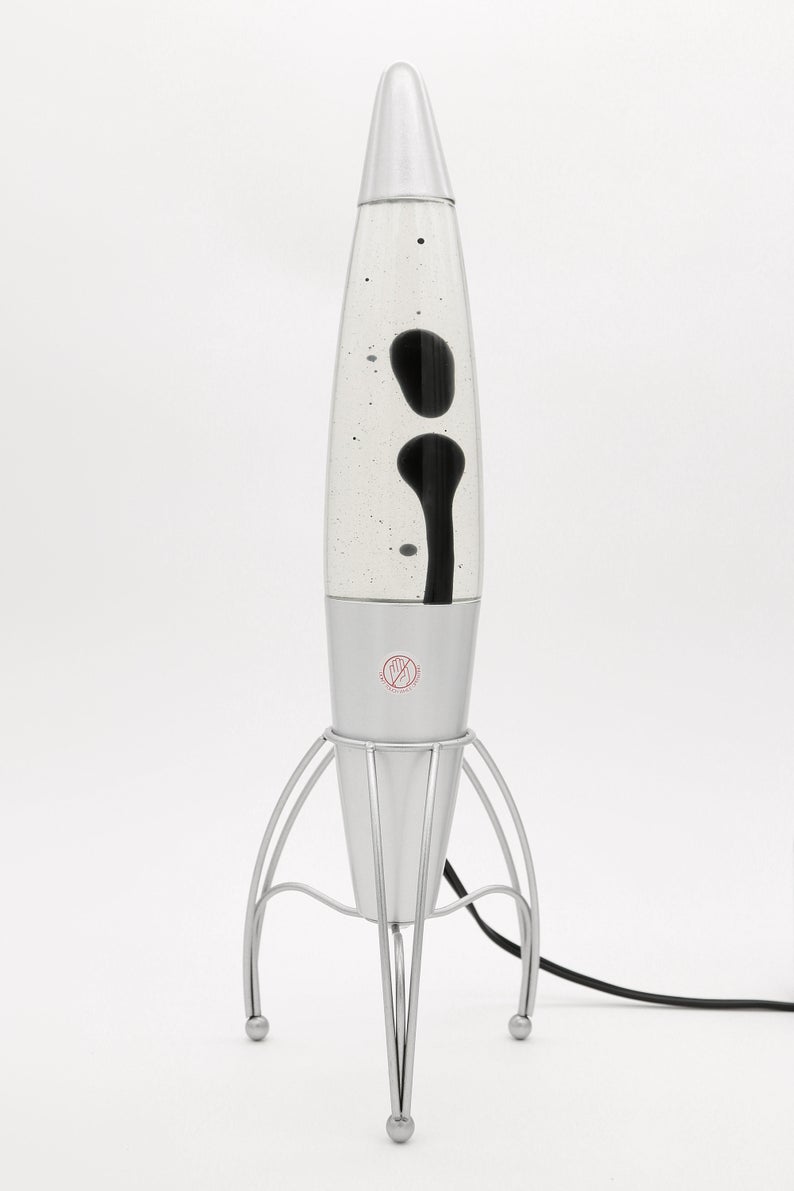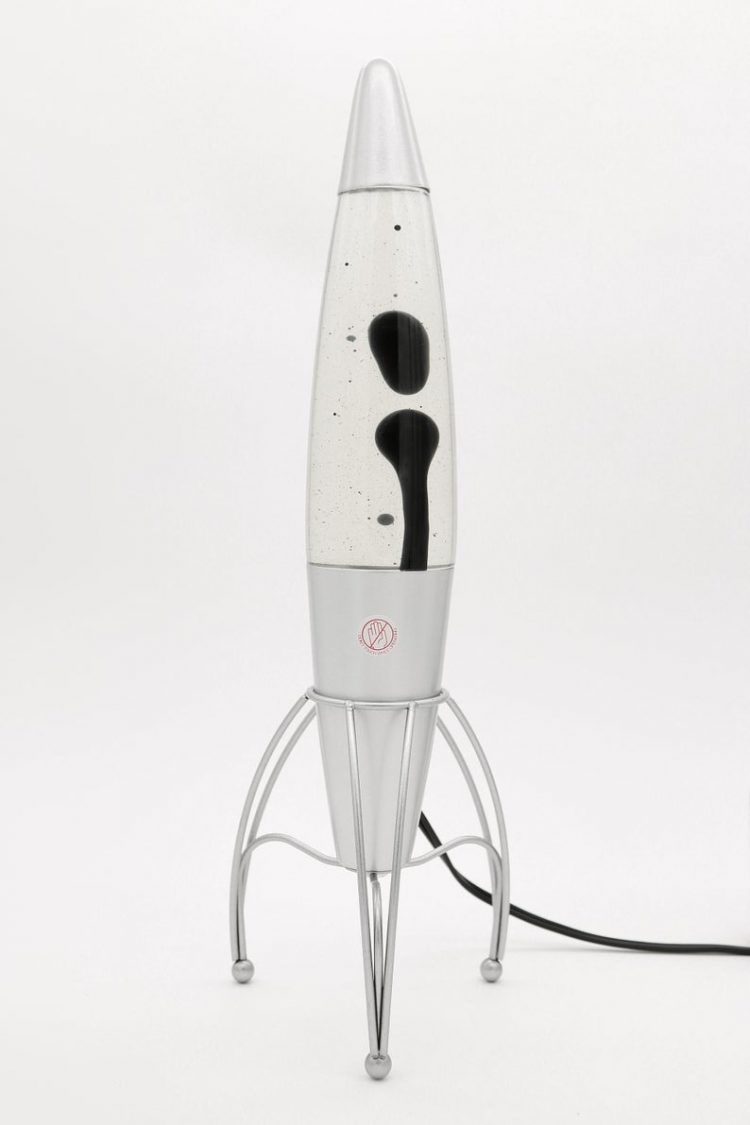 This is an actual lava lamp with NASA derived nanotechnology inside. The 'lava' is made of a magnetic fluid called ferrofluid. Like an ordinary cool lava lamp, the dark fluid will form blobs that rise and fall on their own by simply turning on the light in the base. Unlike an ordinary lava lamp, you can now interact with the 'lava' with ordinary magnets.
Buy Now
Jellyfish Cool Lava Lamp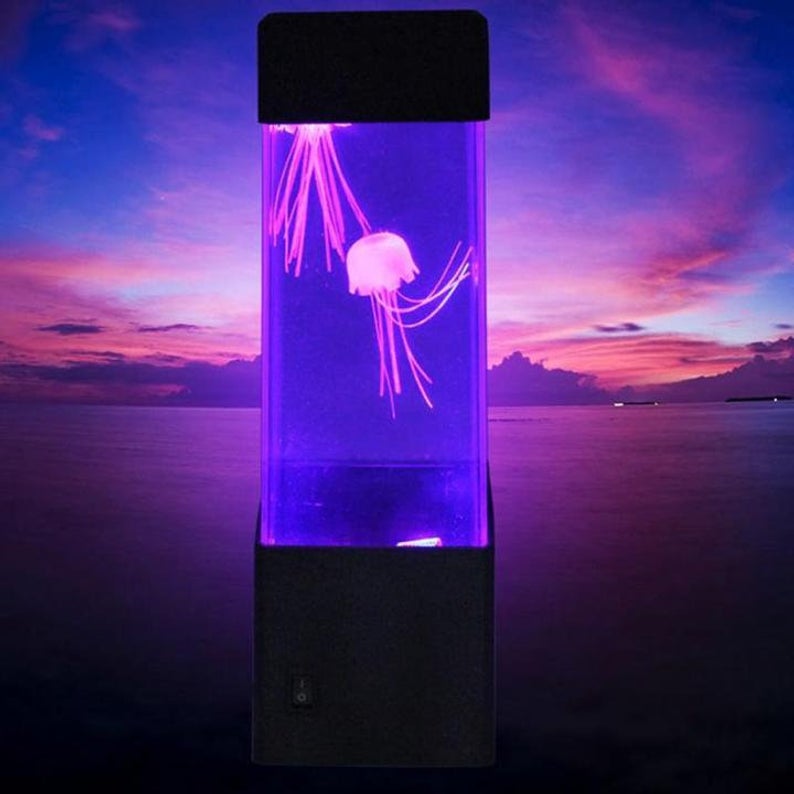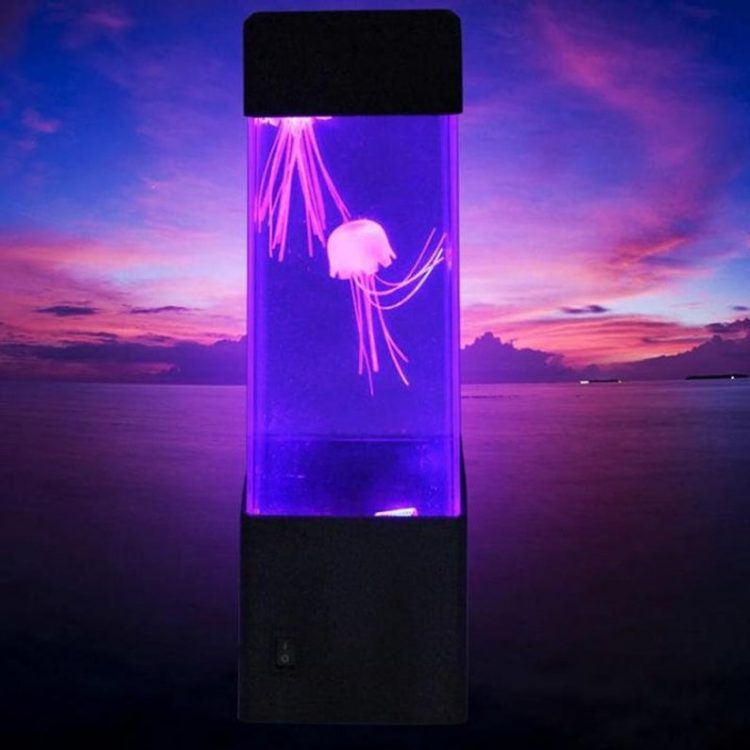 Feel The Life Underwater & Be Amazed By This Jellyfish Led Lamp.
Do you want to add a spellbinding addition to your decor? This Jellyfish Lava Lamp water features lifelike jellyfish, swims quietly, creating a beautiful deep sea atmosphere in your room.
Watch as the ethereal jellyfish swim just like going to visit a jellyfish aquarium. The jellyfish lamp changes to different lighting colors that will mesmerize you. Immerse yourself in the peace and calm of the ocean with the jellyfish lamp.
Buy Now
Custom Cool Lava Lamp Crystal Head Vodka Skull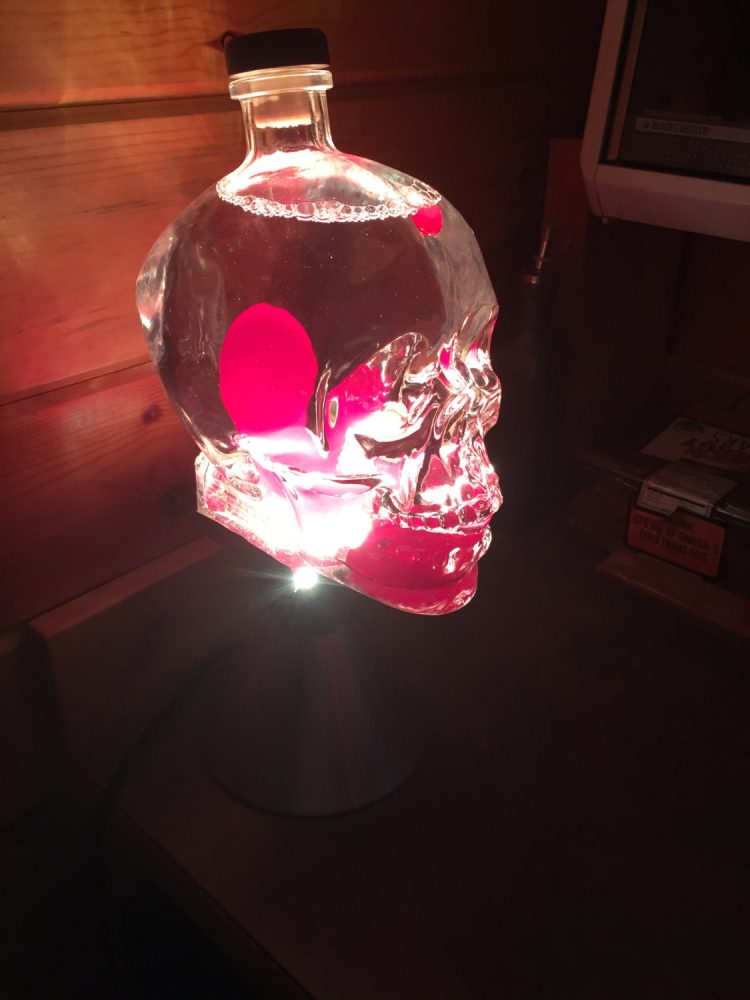 Fully functioning cool lava lamps made using a 1.75 Liter Crystal Head Vodka bottle. Famous Blues Brother Dan Akroyd is behind the company that makes the vodka that comes in these bottles. I enjoy vodka tonic with a little lime, and crystal head makes a fine drink. It even tastes great straight! The bottles are made in Spain and are an incredible work of art. The base is a solid fit. The lamp looks great and works great. These are cool, and perhaps a bit creepy. My finest creation yet! Indiana Jones wishes he had one.
Buy Now
Neo lava lamp
Neo is an innovative new design of lava lamp for children and adults. Mathmos' many years of lava lamp knowledge went into developing the only lava lamp that is both stylish and safe for everyone. Neo is made of cast metal in copper, part white or silver, it is low voltage, runs cooler than other lava lamps and has a shatterproof bottle. Neo is available in 6 lava color combinations all with Mathmos' unique long-lasting formulation.
Telstar rocket shaped cool lava lamp

The telstar was inspired by the space race fever that gripped the 1960s. Telstar legs are precision cast and then chromed and embossed with the Mathmos logo. Telstar bottles are hand filled in Mathmos' British factory with our unique long-lasting lava lamp formula developed by our founder and inventor of the lava lamp Edward Craven Walker. Each telstar is individually inspected and tested to ensure that our cool lava lamps are the best quality available. Spare parts, including bulbs, are available from Mathmos on an ongoing basis.
Fireflow in copper – the only candle powered lava lamp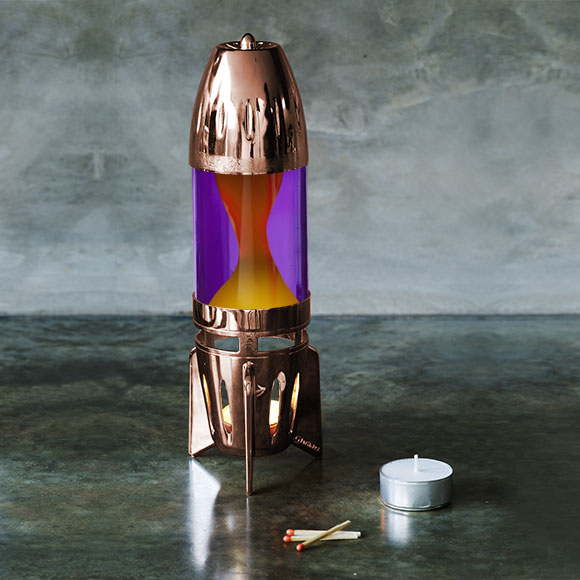 Made of precision cast metal in copper Fireflow is a cute 24cm (9.5 in) tall and looks great in groups. No dangling lead means Fireflow works brilliantly in the middle of a table or even in the garden on still evenings. Warm up is quick; light the candle and 20 minutes later the unique Mathmos formulation starts to flow in tandem with the flicker of the candlelight. Both will last for the life of the tea light, around 3 hours. One tea light is included and Fireflow works with readily available standard tea lights.
Neo Wall cool lava lamp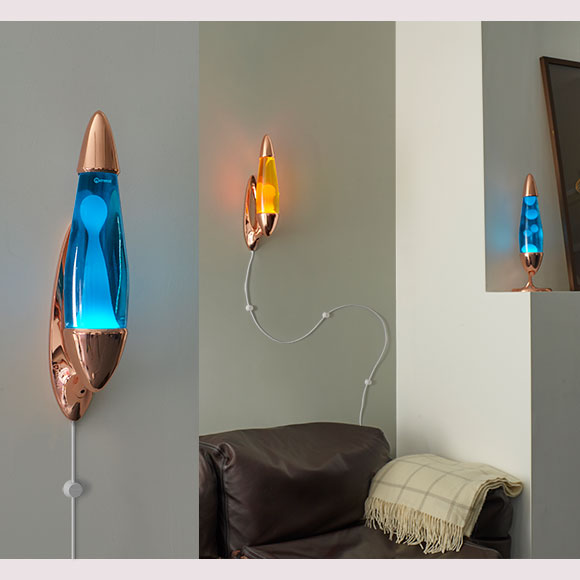 The only wall mounted cool lava lamp available, unique Neo Wall is suitable for homes and public spaces both on its own or in multiples (take advantage of the 20% discount). Neo Wall is completely secure and suitable for adults and children alike. Straightforward to put up, see video below, the lead does not need to be chased into the wall and can simply be tidied up with the optional wall bosses included (see animation below). The product is cleverly designed so that after fixing the back plate to the wall it simply slots into place and is fixed with two screws, Allen keys provided.
Schylling Lava Lamp with Tri-Colored Globe
The northern lights lava lamp allows you to enjoy one of the seven wonders of the world right at home! Colormax technology makes the glitter appear to change color as it flows up and down the hand-painted, tri-colored glass globe. The beautiful decal of the scene of a northern light on the hand-spun base and cap of this lamp will create a relaxing environment. Watch the instant motion and enjoy this relaxing version of a timeless cool lava lamp.
Last update on 2022-05-30 / Images from Amazon API