Discover all the bankers lamp style office lights with the famous table lamp visible in American movies with antique brass or chrome-colored luminaire. Take advantage of an attractive banker lamp to give an old-fashioned touch to your office.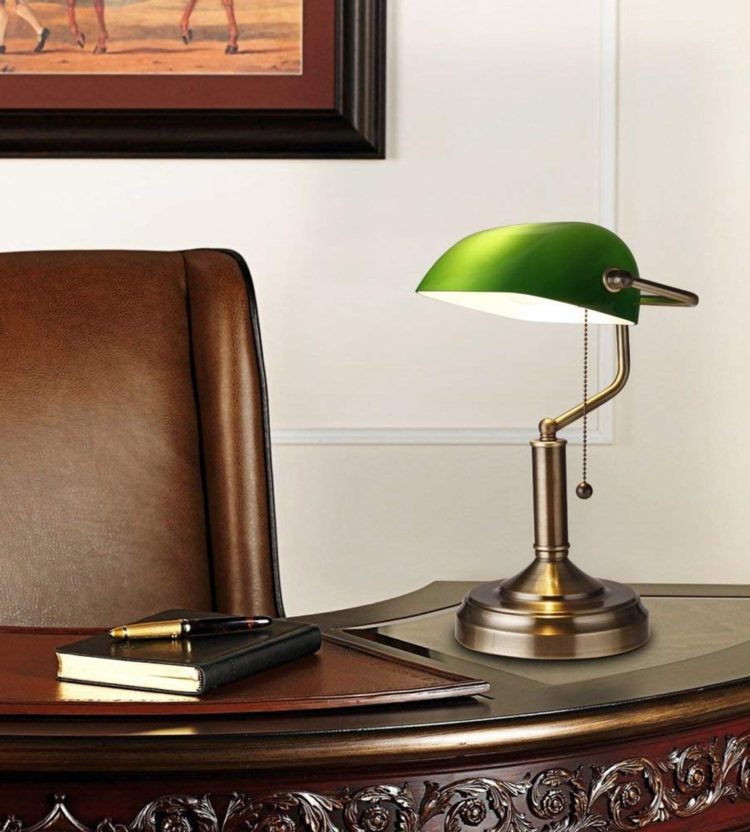 You like refined and luxurious things while keeping optimal functionality. The banker lamp is a table lamp that is in a retro 1930s style. This lamp has a vintage look thanks to its design while keeping powerful lighting on the desk.
What is a banker style desk lamp?
A banker-style desk lamp is a brass and opaline luminaire.
This lamp called a banker's lamp or a notary's lamp was originally a lamp used in American libraries at the beginning of the 20th century.
It quickly found a prominent place on the desks of Wall Street financiers, hence its name as a banker's lamp.
The banker-style desk lamps found today are reproductions of a model developed in the 1930s.
Its heavy foot and brass bow ensure perfect stability. Its green opaline lampshade provides comfortable, precise and dimmed directional lighting.
There are now many versions of the banker's lamp. Traditionally green, it is found in blue, red or white.
Timeless, the banker-style lamp has become a classic whose popularity has not waned.
The banker style refers to films in which the big boss or banker has a large smoky desk on which this bronze lamp is proudly placed. Synonymous with a job well done, precision work, the bank lamp brings a serious atmosphere to your desk. It is not a table lamp that is only there to illuminate, it brings a qualitative image for the one who discovers it on your table.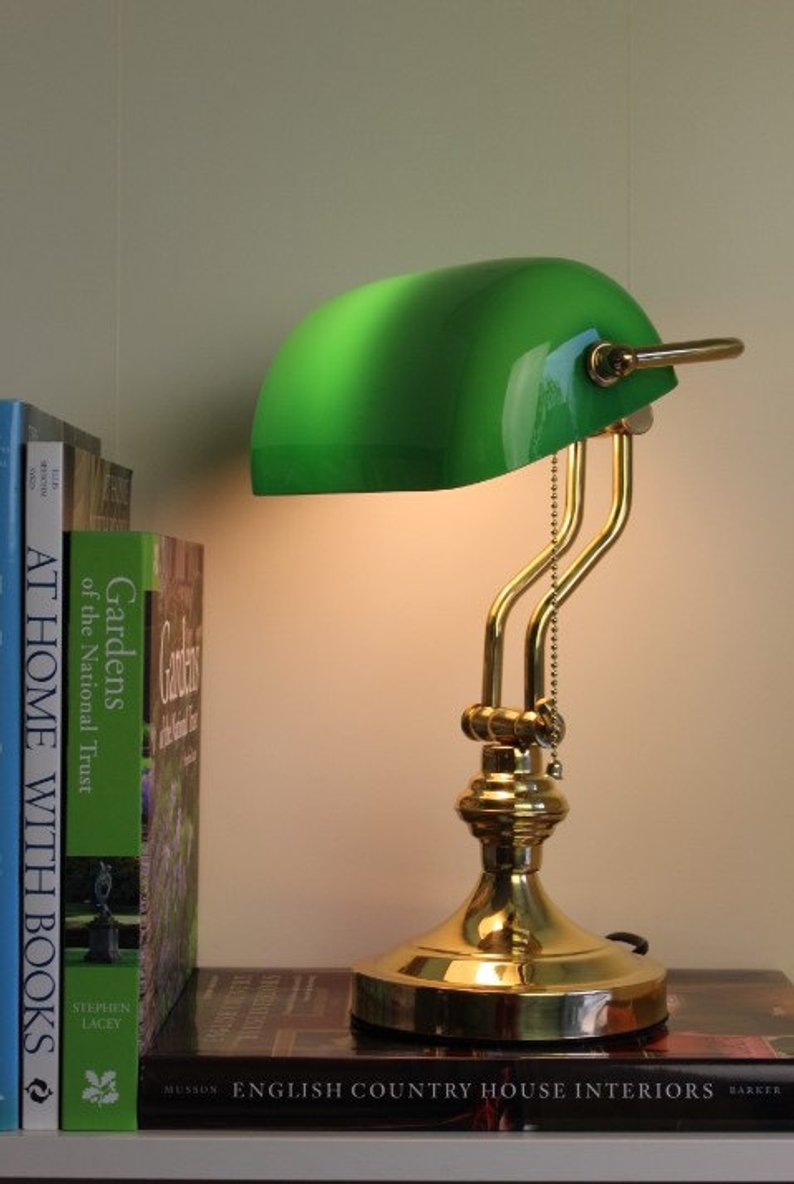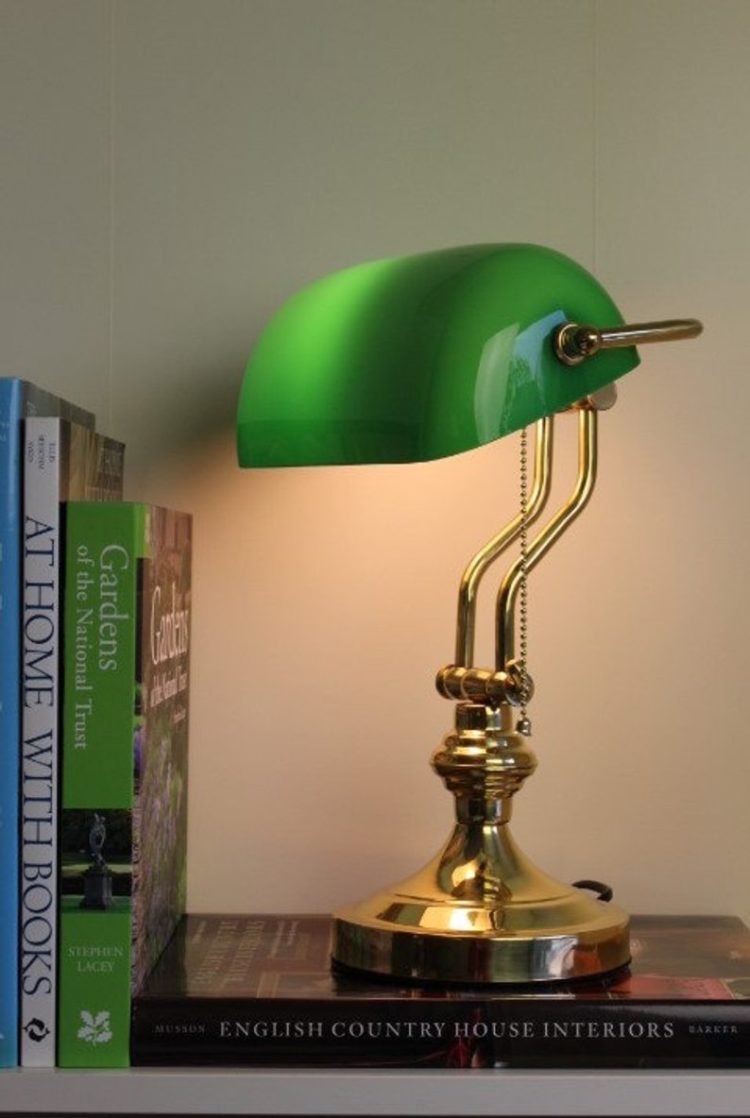 It is not for nothing that we find this lamp on the desks of important personalities, it refers to work well done, to the work that has allowed the acquisition of an expensive and beautiful craft product. The banker lamp is more than just a lamp, it sets the tone for what you want to show about yourself, a serious and conscientious person.
The bankers lamp in detail
With its inimitable style, the bankers lamp hides features that other lamps would like to have. Let's take a closer look at why you need a banker lamp at home.
Bronze, a noble metal that is often used for this type of lamp. Beyond its pleasant visual appeal, bronze is soft to the touch and above all heavy. The base of this lamp then offers the advantage of having excellent stability on your desk. Unlike conventional desk lamps, there is no risk of inadvertently dropping the bank lamp.
The opaline of the bankers lamp, a magnifying glass that offers a perfect light diffusion. This is the secret of this lamp, its semi-opaque opaline lens makes it easier to diffuse light on your work area. You do not have a glare effect with this glass and nevertheless, keep an extra light in the room because it is not completely opaque.
In other words, opaline is a glass sensitive to impact, when placing it on your lamp, it is advisable to tighten it slowly and not too tightly.
If you practice creative leisure activities or bank acivities like crypto trading, we advise you to use a bank lamp that will diffuse the light directly on your hands and thus improve your precision in your creative work.
Opaline due to its opacity allows the bank lamp to be used as a bedside lamp. You can place it on your bedside table and use a small 5W LED light bulb to be able to read without disturbing your sleeping partner next to you.
Did you know that the banker lamp is adjustable, you can rotate the opaline glass to direct the light beam where you want. A feature can be used because this lamp remains mainly to illuminate the work surface or paper on which you are going to write a letter.
The lamp switch is placed on the electrical wire, you have a long length of wire which allows you to place the lamp on your large desk without any problem and to connect the lamp to your electrical outlet. If you have a large room and your office and in the middle of it, you may have a problem connecting your lamp.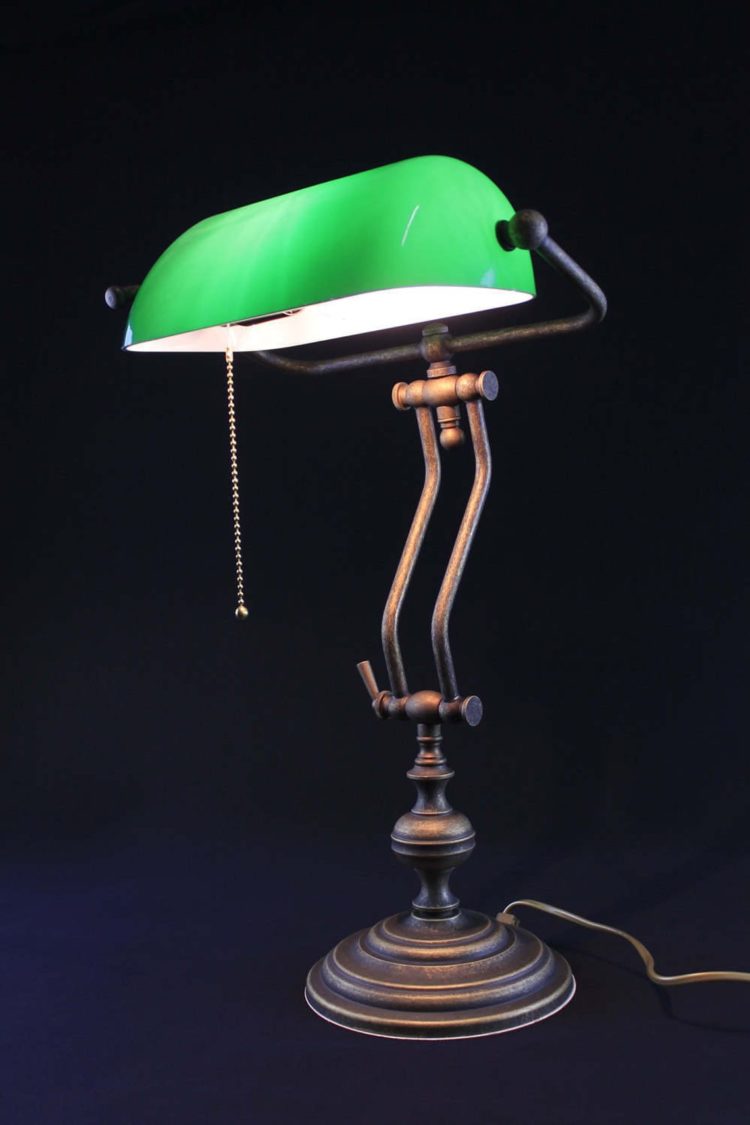 The socket of the banker lamp is a socket with a large screw base, i. e. the E27 base. This type of socket allows you to place a fairly powerful LED bulb. Knowing that here the limit is 60w, you can have a very powerful LED lighting. knowing that you will use this lamp on a desk, we advise you to limit the power of the lamp lighting to 7 or 8w. no need to put more power, the purpose here is not to light your office or living room.
In short, the bankers lamp is a very beautiful luxurious lamp with practical features interesting for those who need to work in the evening. There are many models of banker lamps that we will present below to help you make your choice.
Is there then only one model of bankers lamp?
Over the years, banker-style desk lamps have won over many people, including collectors. If they were green at the beginning, there are currently several different colors such as red, white and other colors are available on the market. As for his style, he keeps his traditional and timeless side so appreciated then and now.
Bankers lamp with chain
It is the most classic bank lamp with an opaline glass and a chain for the switch. This is the authentic model of the bank lamp. We like the weighted foot for the better stability of the lamp.
Tiffany bankers lamp
The combination of the bank lamp and Tiffany glass makes it one of the most beautiful lamps we have seen today. Always with a chain-shaped switch to keep this vintage look. Recommended with a warm white LED bulb.
Wood Banker Lamp
Here the bronze is replaced by a lacquered wooden base with the most beautiful effect. Under the base of the anti-slip pads to avoid seeing his lamp fall to the ground. Tip, if your office is in the middle of the room and you do not want to have an electrical cable running on the floor and in order to prevent someone from getting caught in it, you can place electrical trunking on the floor.
White banker lamp
It is a beautiful discovery that this banker lamp with white opaline glass and a brass base. If you like the pure and immaculate white style it is the lamp to have on your desk. Here the socket supports a max 40W bulb, so no problem to place an 8W led.
Crystal bank lamp
in the purest style of the 1930s, this lamp has crystals that, like the pendant living room luminaire, give a very classy look to your desk.
Last update on 2022-05-30 / Images from Amazon API