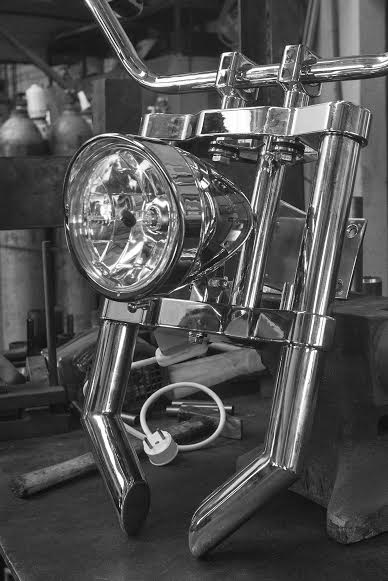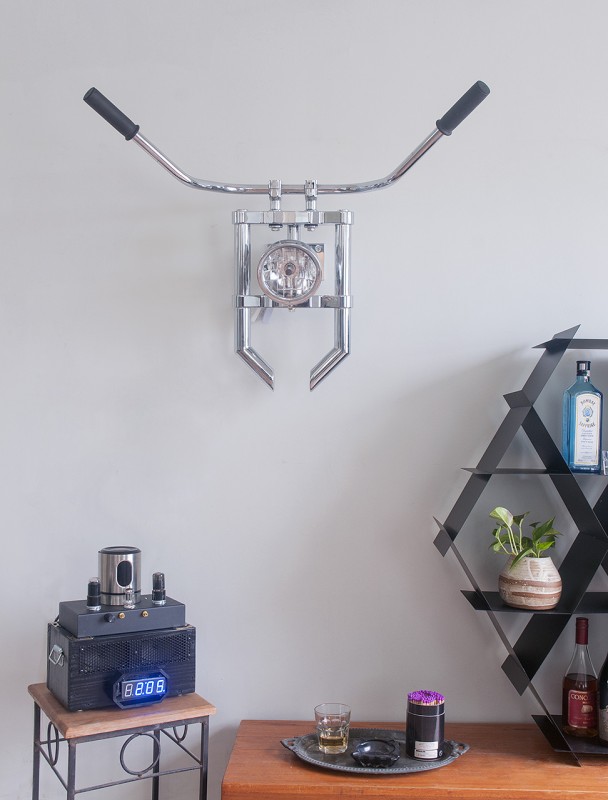 Motorcycle lovers you should check this Industrial Wall Sconce !
Animal trophy heads make impressive monuments and focal points to any room. They immediately convey a person's interests and lifestyle. They have grown extremely trendy in recent years and earned many different versions and references in the design and decoration world.
The "TORO" motor-head utilizes the iconic motorcycle structure, resembling a bull's skull, to design a novel lighting fixture. The TORO is constructed from genuine custom motorcycle parts and looks as if it was cut off a real motorcycle. Some elements in the design are altered in order to define the desired shape of a bull's head.
The "TORO" motor-head can be placed in living rooms, "man-caves", bars, restaurants and more, becoming an awesome conversation piece and decorative functional lighting fixture.
All TORO units are made in a local custom motorcycle workshop so you can be certain you are getting a top quality product.
TheTORO Designer: Eran Peled is a chemical engineer from Tel Aviv, Israel.
He works in industrial plants all day long, designing metal constructions and piping supports. He Ioves working with metal – welding parts, cutting pieces off and getting his hands dirty with greasing bolts.
However, as much as he loves his job, he loves motorcycles even more..
"For me, motorcycles are not just vehicles, they represent a way of living, taking part in almost every facet of our lives. They are my true passion."
Eran views all motorcycles as a works of art, each with its own unique character and features and constantly trys to think of new and creative ways to showcase these masterpieces.
"I wanted to design an object that when on display, immediately conveys a strong statement of who you are as a person – your lifestyle and your background.
I believe the TORO is that object."
Toro Motor-Head