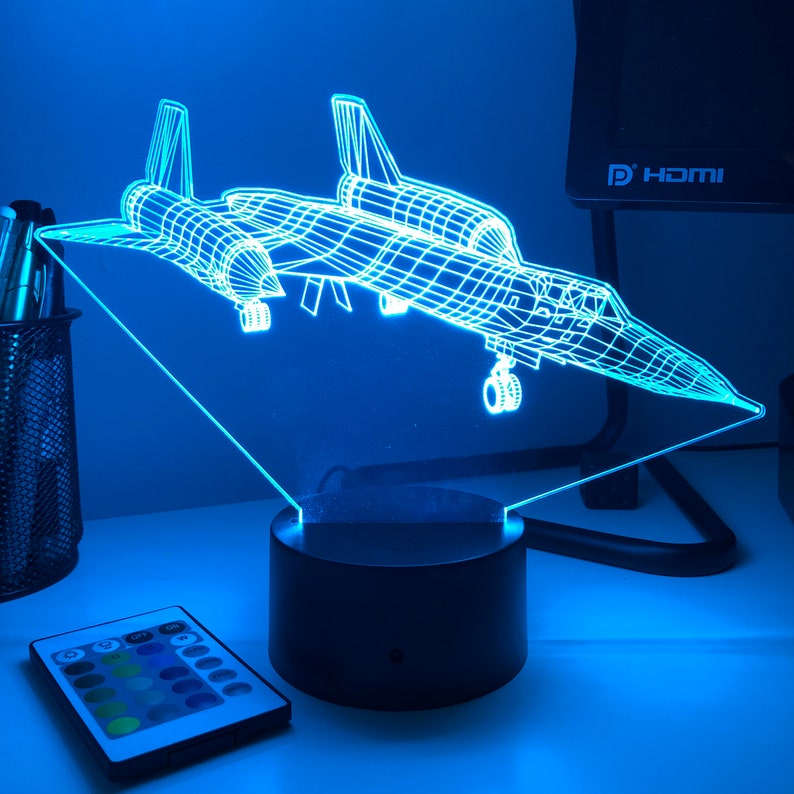 Price: $33.49USD
SR-71 Blackbird Spy Plane – 3D Optical Illusion Lamp.
The SR-71 "Blackbird" was a long-range recon aircraft used by the United States military.
This lamp is perfect for those interested in jets or in the US Air Force!
Are you looking to add a little flare to your oh-so-boring living room? Something unique that will astonish your guests?
Sure, you could spend a few hundred (or thousand) dollars on a unique painting, or you could get something much more affordable and just as unique.
These 3D optical illusion lamps are the perfect solution to brightening up any room in your house in the coolest way possible.
The way the illusion works is that from further away the lamp looks like a floating 3D object, while it's actually just a thin sheet of acrylic glass. This illusion is sure to dazzle everyone that sees it.
These 3D optical illusion lamps are perfect for adding a little personal flare to any room.
BUILT TOUGH
Not only are these lamps jaw-dropping, they're also engineered to be extremely durable.
You may be wondering if they'll stand up to being in your kids' room, and the answer is yes.
These lamps don't break easily because they're made with only the highest quality materials.
Carve Craftworks lamps have been stress tested for a variety of situations, so you know that you're getting a rock-solid product that will stand the test of time.
WHY WAIT? ORDER YOUR LAMP TODAY!
If for whatever reason you're not satisfied with our kick ass lamps, we offer a 100% money back guarantee.
You are risking nothing by ordering one of these bad boys. Either you end up with an awesome lamp that you love, or you get your money back.
Select Yes under the Remote option to add a wireless remote that provides an additional 8 color options, 4 color sequencing options (flash, strobe, breathe, static), and a brighten/dim option!
Features:
– 8  Changeable color modes including Cyan, Blue, Green, Red, White, Yellow, and Purple as well as a flashing mode that displays all colors. 
– Touch button to easily change the color mode
– Energy efficient long life LED bulbs
– Safe to touch. Does not overheat
Specifications:
– Dimensions: 6 (L) x 8 (H) inches, 0.3 (W) millimeters thick. Some styles may vary but all will be between 5-9 (H) inches.
– Voltage: 5v, 0.5A
– Power sources: Electricity. Plug in USB Port (USB Wall Adapter or Computer). 3x Double A Batteries
– LED Life Span: 10,000 hours
– Weight: 1 lbs
What's Included: 1x Lamp Base, 1x Acrylic Glass Pane, 1x USB Cable.