It's hard not to succumb to the attraction of real Himalayan salt lamps. They diffuse a beautiful bright and enveloping light, are both aesthetic and inexpensive. They now populate the interior of many people and we see them blooming for a few years now in organic stores and even decoration shops. But they are not only decorative and soothing, they would also have multiple health benefits.
What is a real Himalayan salt lamp?
If they are often referred to by the designation "lamp of salt of the Himalayas" it is important to point out that very often the salt they are made of does not come from the Himalayas. These salt blocks can be extracted from mines in Poland or Pakistan. Each lamp is unique, different in shape, color, and intensity. The block is then simply dug out so that a light bulb can be placed. It is then attached to a support, usually made of wood, and connected to the sector. A low-energy bulb is recommended.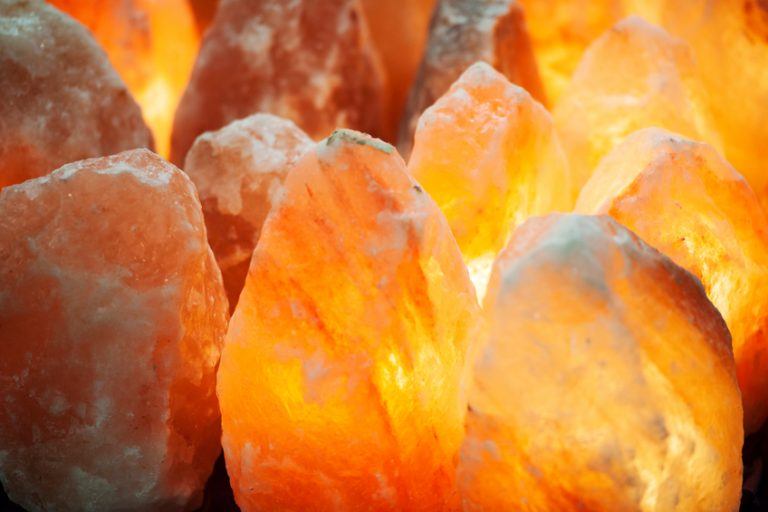 Make sure that any lamp you choose is a real Himalayan salt lamp and not a cheap fake alternative because rock salt lamps will not produce the same health benefits.
In which room of the house to install a salt lamp?
Being not very bright, the objective of salt lamps is not to light a room. Ideally, it should be placed in a dry and well-ventilated place, as it is possible that a slight condensation may form under the lamp due to humidity. Its very soft light makes it an ideal lamp for extra lighting in a bedroom or living room.
How does it work?
While they are safe, there are few scientific studies supporting the real health effects of salt lamps. On the other hand, users report that they have a real influence on their stress level. They would, in any case, have a natural ionizing power. The salt crystals emit negative ions, an effect increased by the heat generated by the bulb.
These negative ions will then counteract the positive ions, which are naturally present in the atmosphere due to air pollution. The lamp will then have a sanitizing effect, further increased if the lamp remains permanently lit. Vigilance nevertheless to avoid overheating, even with a low-energy bulb.
The salt crystals, combined with the light source of the bulb in the lamp, produce negative ions. These neutralize the positive ions in the air carried by molds, allergens, and bacteria. This makes it possible to purify the air in a room.
Positive ions are produced by our company's electronic equipment. They can cause all kinds of problems and illnesses such as allergic reactions, increased stress levels, and insomnia. Negative ions produced by lamps neutralize these problems.
Salt crystal lamps have the same effect as an ionizer. However, the ionization of a salt crystal lamp cannot be compared to that of such a device, because it has only a positive effect. Salt crystal lamps have many advantages in many ways and improve the atmosphere of a room.
If the lamp is placed near a television or computer, its effect, due to the electromagnetic field of the device, is approximately 100 to 160 Hz. The waves in our brain produce only 8 Hz at the Schuman resonance frequency. As a result, the body is subjected to frequencies more than 20 times higher than normal. Such exposure causes nervousness, insomnia, lack of concentration or weakness. In addition, the body will absorb more free radicals, a known source of cancer.
The salt crystal lamp produces negative ions that neutralize excess positive ions. When the lamp is hot, it absorbs moisture and the crystal becomes damp on the surface. This creates the ion field. Thanks to the lamp, the atmosphere of a room charged with positive ions can be neutralized.
The salt lamp, an ally of meditation?
Salt lamps are a great tool to improve wellness. They emit a pleasant and soft light with a soothing orange hue. In chromotherapy, the color orange is known to favor the reconnection between body and mind but also to be an ally against fatigue. For this reason, they can be very useful during a meditation session. In fact, they are often found in sophrology offices or yoga practice places. Although their health benefits are not scientifically proven, they remain an undeniable asset in creating a relaxing living environment.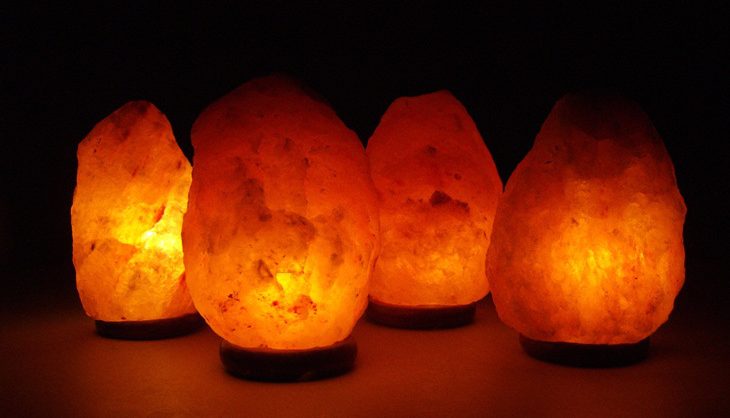 The benefits of real Himalayan salt lamps
Negative ions produced by Himalayan salt lamps can provide protection against suspended germs, preventing the development of coughs, sneezes and throat irritation. Here are some of the problems that lamps are supposed to prevent:
Respiratory problems
Allergic reactions
Skin Problems
Insomnia
Psychiatric disorders
Migraine and headaches
Rheumatism
Vascular system disorders
Real Himalayan salt lamps also have a positive effect on meditation and promote relaxation while leading to an improvement in air quality. Results have also been seen about the salt lamp for anxiety.
Scientific results about Himalayan salt lamps
It is now recognized that following scientific and empirical research, salt crystal lamps have biophysical characteristics that positively affect our well-being. From a scientific point of view, three natural principles come into play: ionization, electromagnetic oscillation and the transparent crystal structure, source of light waves.
Before elaborating in detail on the above-mentioned characteristics of salt crystal lamps, we would like to point out that salt is an essential element, just like water and air, and that its natural minerals and trace elements have unique biophysical and biochemical characteristics. The salt must be considered neutral, both chemically and physically, without its own polarity, always stabilizing and neutralizing. Like our mother Earth, the human being is made up of about 70% of water, more specifically salt water.
This salt water has enormous potential as it transmits the energy of the cosmic oscillation (vibration), not only to the planets but also to the deepest part of our nerves and cells. It is not only the salt, from a chemical point of view, that the body needs to maintain all its vital functions, but the salt, from a biophysical point of view, that will always be able to restore the body to its natural energetic vibration rhythm.
Real Himalayan salt lamps and ionization
Worldwide, laboratory tests using a variety of measurement methodologies have shown that lighted salt crystal lamps release ions into our environment. Research shows that the increase in the number of negative ions is the main reason for this increase. The ion emission is mainly due to the ability of salt to absorb water first and then evaporate it, alternately. More precisely, the heated salt crystal attracts water molecules present in the ambient air to its surface. Salt turns into a solution when it mixes with water molecules. Sodium, a positively charged ion, and chloride, a negatively charged ion, neutralize and are returned to the atmosphere. The unique character of the interrelationship of this ion emission is only possible with mineral salt since only this salt possesses this transformation capacity with water thanks to its electrically neutral atomic structure.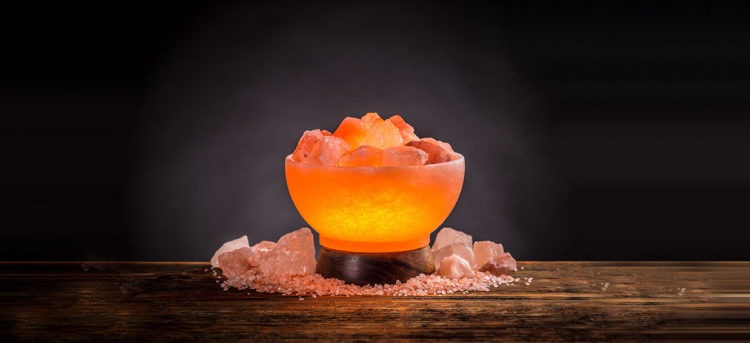 Scientific research over the past ten years has clearly shown that a balanced ion ratio with a slight surplus of negative ions can have extremely positive effects on our overall physical condition and health. According to research, heated salt crystal lamps can be compared to natural ion sources. It should be stressed, however, that the emission of ions generated by these lamps should not be considered as their main characteristic since, from a scientific point of view, the surplus of negative ions is negligible. More importantly, they have the ability to clean up ambient air. Depending on the size and surface area of salt crystal used in the manufacture of the lamp, the ambient air is cleaned through the transformation cycle of hydrogen and oxygen, as well as sodium and chloride ions. This feature is particularly beneficial for relieving symptoms associated with asthma and allergies in general.
The search for the characteristics of clean or cleaned air thanks to the action of salt crystal lamps is based on a medical therapy called "speleo-therapy" which consists in bringing a patient into an underground salt mine to expose him to an atmosphere concentrated in negative ions. Other scientific research has not yet been undertaken under medical supervision, as this is a field in its early stages. The therapeutic effect of a simple salt crystal lamp cannot be compared to the effects found in a salt mine under medical supervision. However, there have been holistic and positive results of holistic and positive self-healing that can be classified as scientifically subjective and must be recognized and considered.
Himalayan salt lamps and electromagnetic vibrations
An electromagnetic belt surrounds the Earth and within it, all life forms come and go. As a result, every life form on this planet depends on the power of this electromagnetic vibration field, known as the Schuman resonance frequency. This frequency establishes that the frequency of this electromagnetic field is 7.83 Hz (cycles) per second. This value is recognized as the resonance frequency of our earth. This is the most common frequency measurement applied to mammals and can be found in the brain during an EEG.
A salt crystal, in its natural state, indicates exactly this vibration frequency value. But because of our industrialized and mechanized way of life, especially in our homes and offices, the human organism is affected by wavelengths at various frequency values due to electronic devices. It has been proven that these frequencies not only disturb our organism but also cause diseases because they constantly interfere with our natural resonance frequency.
As a result of this constant exposure to various frequencies, our own electromagnetic energy field becomes saturated, which interferes with the development of our cells. Due to the atomic structure of the already neutral salt, it is more than likely that the artificial frequencies are harmonized or balanced by the lit salt lamp since it acts as a natural amplifier for the resonance frequency of 8 to 10 cycles per second necessary for our life. Thanks to the use of a salt crystal lamp, we can adjust and neutralize the electromagnetic wavelengths emitted by electronic devices in a natural way.
The soothing effect of colors on our body and mind
It is important to know that the colors of salt crystals have a soothing effect. Colored crystals act therapeutically on the skin as they help regenerate the epidermal layer. Tests in children with ADHD showed that their symptoms decreased after only one week of exposure to salt crystal lamps, but returned as soon as the lamps were removed.
Orange

– Provides a sense of security and benefits our nervous system and mind; stimulates the kidneys and bladder.

Yellow

– Promotes intellectual understanding and stimulates the pancreas, liver, and gallbladder.

Red

– Strengthens vitality and stimulates the heart and circulation.

Rose

– Supports the sense of partnership and love and opens our emotional body.
White – Has a cleansing and detoxifying effect and represents the soothing aspect.

Brown

– Helps to find one's own balance and fosters the character down to earth.
Where to buy salt lamps?
Best salt lamp on Amazon
Best salt lamp on sale on Etsy
Salt lamp night light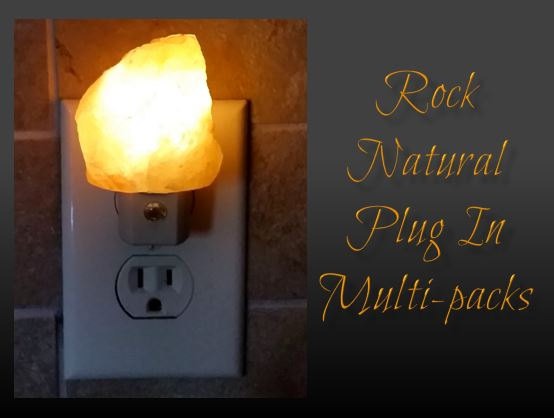 ELEMEANTS has just created another unique and clever way of adding our Healthy Himalayan Salt Lighting to even the smallest space! These are all made-to-order and each and every one is as unique as the rock itself. These are theirs as they are the designer, manufacturer, and retailer. They make these by hand here in the US and hold the copyrights and patents are pending.
This Rock Natural Niite Lite plugs directly into any outlet and has an auto light sensor that detects darkness and turns on.
Large Himalayan salt lamp
Salt lamps offer a warm orange glow, similar to the hues found in a campfire or by candlelight. For this reason, they are a great light source for the evening and can even be used as a nightlight.
Salt lamps are a beautiful light source that may offer the benefits of color therapy, by cleaning the air hygroscopically and in alleviating allergies. They are an inexpensive no-blue light source to use after dark and as a sleep-friendly night light for kids.
White real Himalayan salt lamp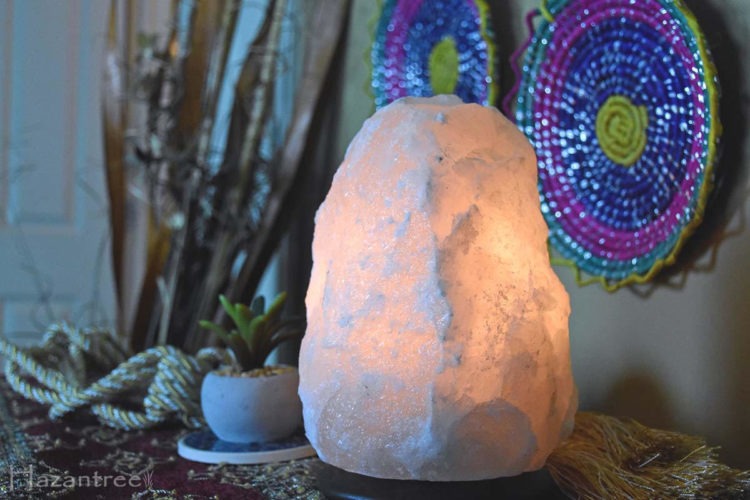 Natural White Himalayan salt lamp is hand-crafted using natural Himalayan pink salt. All Hazantree salt lamps are made from salt sourced from the Kalabagh Salt Mines. This is the purest source of salt as it contains the least amount of impurities resulting in a strong crystal that has a unique crystalline structure. Each Himalayan salt rock is carefully selected by our artisans and then meticulously chiseled by hand to accentuate the hidden beauty of the crystal. As the light passes through the salt crystal the rock comes to life and becomes a focal point of your living or work space.
This beautiful lamp sits on a Zen feeling handcrafted wood base. This lamp comes with a dimmer cable to allow you to set the mood in your living space along with a 15-watt bulb.
Blue salt lamp
The salt lamp consists of white salt, 100% natural, stone, coarse-grained particles that have healing properties. Stand: natural wood – oak. Salt in the cold state has the ability to absorb moisture from the air, and when heated to release it into the atmosphere.
When heated by an electric bulb – the salt releases negative ions, which neutralize the negative effects of bacteria and electronic equipment. It cleanses the body of many bacteria and accompanies the acceleration of recovery.
A salt lamp that changes colors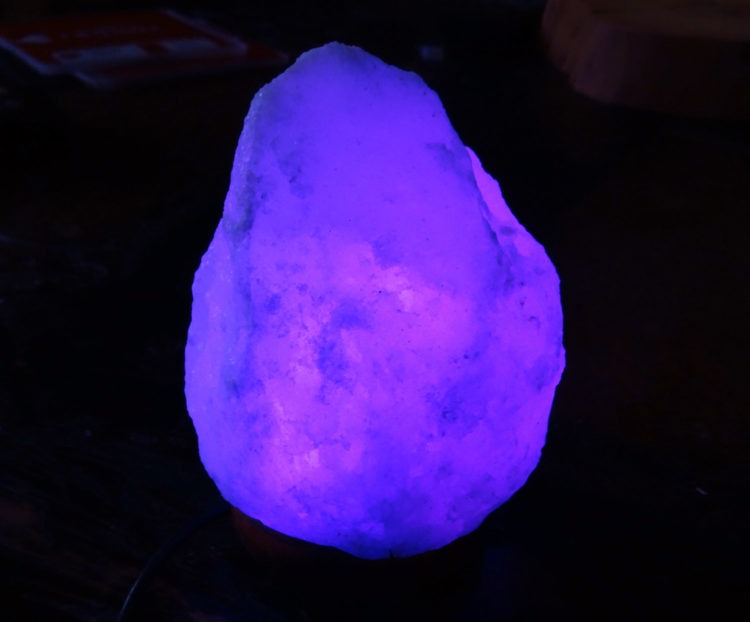 These are the greatest little lamps and are perfect for the office as they can plug straight into your computer! With a modular phone mini USB charger, they can plug into the wall as well. They also make awesome night lights! These real Himalayan salt lamps are crafted from white Himalayan Salt and are fitted with COLOR-CHANGING LED bulbs and a USB cord. The bulbs automatically change from green, teal, blue, violet, red, orange, yellow and pink.
USB salt lamp
Made from Pink Himalayan Salt Crystals and environmentally friendly, long-lasting LED diodes, this USB Powered Desk Lamp will add a soft amber glow to any space. The heated salt purifies by emitting negative ions to clear the air and naturally dilute odors.
Pyramid salt lamp
Beautiful, natural Himalayan Pyramid Salt lamp with cord and bulb.
Salt lamp elephant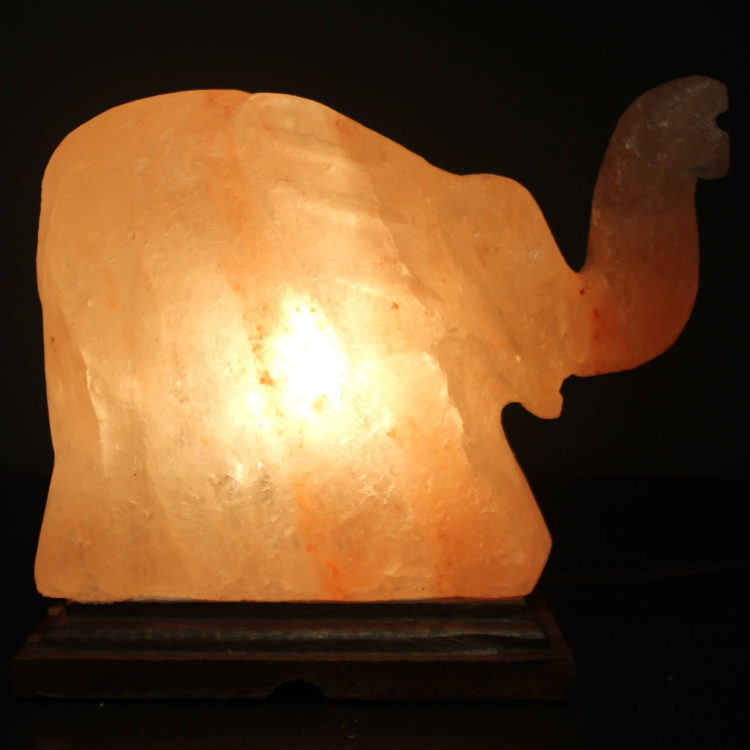 You will receive the EXACT item pictured. This stunning carved Elephant shaped lamp, all 100% Pure real Himalayan salt lamp that weighs 6 lbs. 5 oz. stands 7″ tall and includes a polished wooden base, a UL/CSA approved wire assembly with dimmer switch and 15-watt bulb.
Salt lamp bulbs
Salt lamp dangers
Is it dangerous? A priori no. There is a lot of controversy on the Internet saying that these lamps are a scam, that at best they are useless and at worst, toxic. No matter how hard I look, I haven't found a serious study showing any toxicity whatsoever.
Salt lamp and cats
Dogs and cats should be prevented from licking the salt lamp to prevent salt poisoning.
Himalayan Salt lamps leaking
A small puddle under the lamp can happen. Don't see any mystical signs, no virgin crying… It's just… condensation! Exactly the same as the one on the windows when steaming vegetables.
To avoid this, reduce the ambient humidity and wipe the lamp with a cloth. Yes, salt can dissolve in water.
The lamp does not adapt well to damp atmospheres: do not place it in the bathroom!
Last update on 2022-05-30 / Images from Amazon API