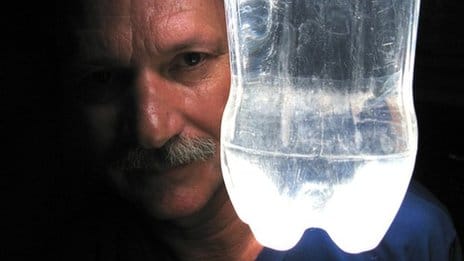 Alfredo Moser's invention, a lamp made out of a plastic bottle filled with water and bleach, has been spreading rapidly around the world and it's expected to be in one million homes by early next year.
Moser, a Brazilian mechanic, came up with the invention in 2002 while trying to find a way to light his workshop during a blackout. He took nothing more than an empty plastic bottle of water, two capfuls of bleach, an aluminum foil, heavy-duty scissors, a drill and polyester resin. After pouring water and bleach into the bottle, he made a hole into an aluminum foil and fixed it on top of the bottle. He then drilled a hole into the roof and fixed the bottle with polyester resin to avoid the roof leaking in case of rain.
In the Philippines, where a quarter of the population lives below the poverty line, and electricity is unusually expensive, the idea has really taken off, with Moser lamps now fitted in 140,000 homes. The idea has also caught on in about 15 other countries, from India and Bangladesh to Tanzania, Argentina, and Fiji.