The Flower of Life, forever radiating a pattern of profound elegance and meaningful beauty, is considered to be the most sacred of all geometry symbols. Radiating the Most Spiritual Geometry Pattern Throughout the Universe: The Flower of Life is a sacred symbol found within all major faiths of the world and even in the first vibratory patterns of the universe itself.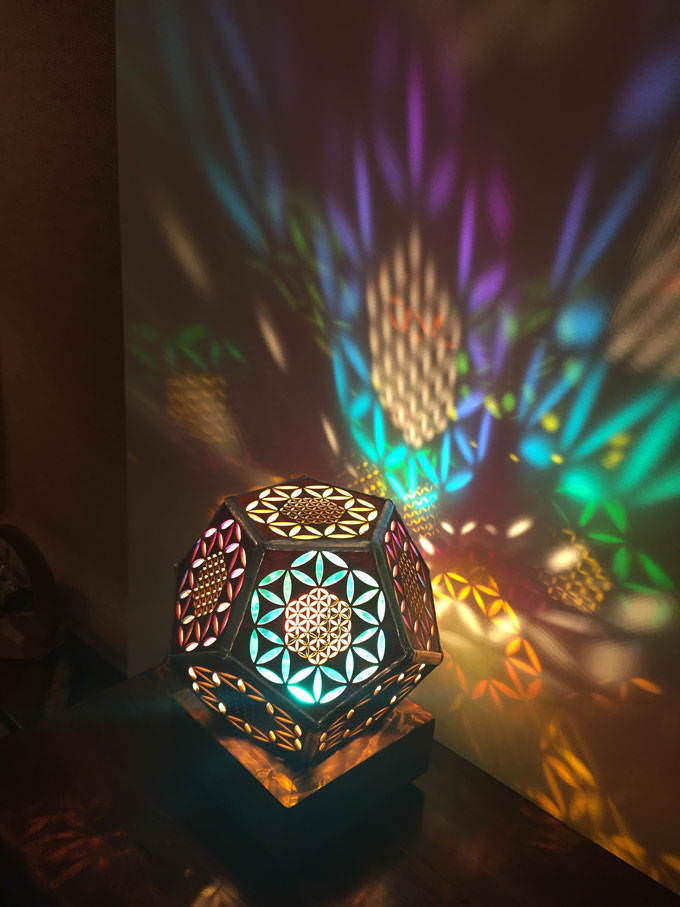 Flower of Life dodecahedron is made up of eleven panels displaying the same repeated pattern all the way through. This lamp is made from reclaimed wood, stained with a rich chocolate color. The lamp stands beautifully on its own as a day to day furniture piece with a metallic gleam to the pattern, but when the sun shines onto the lamp, many colors will appear, creating a tranquil atmosphere. But the real magic comes to life at night. Watch the lamp change color, according to the angle from which you view it.
CHARACTERISTICS OF THE LAMP-
The lamp is made using a traditional method with a modern twist: the same concept as stained glass but without glass. Each lamp is coated in copper foil which is then soldered together with lead, waxed and polished to give it a shiny finish. The lamps are made from wood or acrylic creating a unique product with a unique design. What produces the iridescent colors is NOT a colored LED bulb, but a warm white LED bulb. This is the same for all our lamps. The brilliant colors that project from the lamps are accentuated by their setting in your room – the high-quality acrylic film influences the color shift you will enjoy. We also use a high-quality silk fabric cable to power each lamp – all of which operate on low energy, environmentally friendly bulbs.
Wood: Reclaimed Wood for Base
Height: 23 cm
Width: 18 x 18 cm
Bulb type: LED 6W GU10 (low energy)
Sold by AmberlightsUK on Etsy
Price: 148.00 GBP