The Battle Worn Aviation Lamp: The "Checkered Past". This lamp wasenhanced with smudges, scratches, peeled paint, dents, and a variety of other distress to mimic the time-worn propellers adorning the planes of days gone which were battle-tested in the stormy skies. The black checkerboard pattern on the wings creates a distinctive piece like no other. Kind of like the old P-51 & P-47 fuselage special editions. Wow.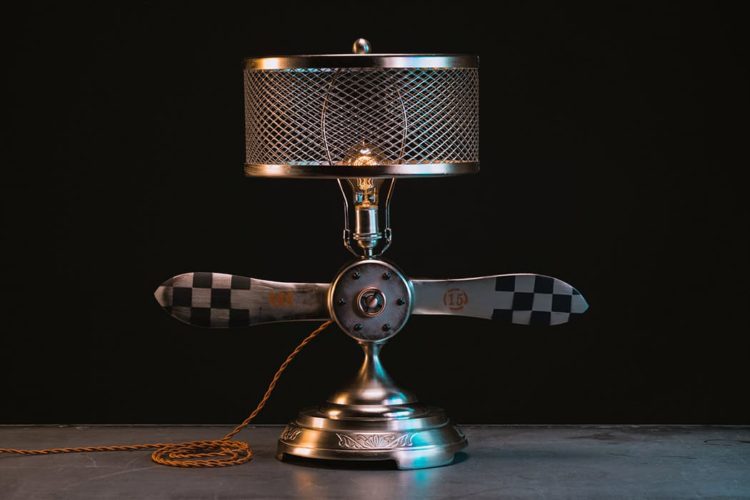 This is a stunning yet simple piece hand-finished out of cast aluminum for the aviation enthusiast. YOU might be that enthusiast or it could be someone you know……this would make a nice gift that might just be, well, ummmmm, one of the nicest and unique gifts they've ever received.
This is custom built with quality throughout and looks great in an office, man cave, restaurant, or sitting on a table anywhere in your house where it can be appreciated.
Measuring approx. 20″ tall with our hand-made Steel Mesh Shade, the wing-span is 23″ wide and the cast aluminum base is 10″ in diameter.
With a nice custom dimmer switch wheel on the front shaft which allows you to dim the light if needed. The wheel is a nice touch we thought you'd appreciate. They also attached twelve Black Cap Nuts that add tremendous character to the piece and bring out the wing detail.