Decorating your home with the latest trends and styles is always fun! It allows you to change up your home to not get too similar to others, makes your home more unique, and less boring by removing repetitiveness.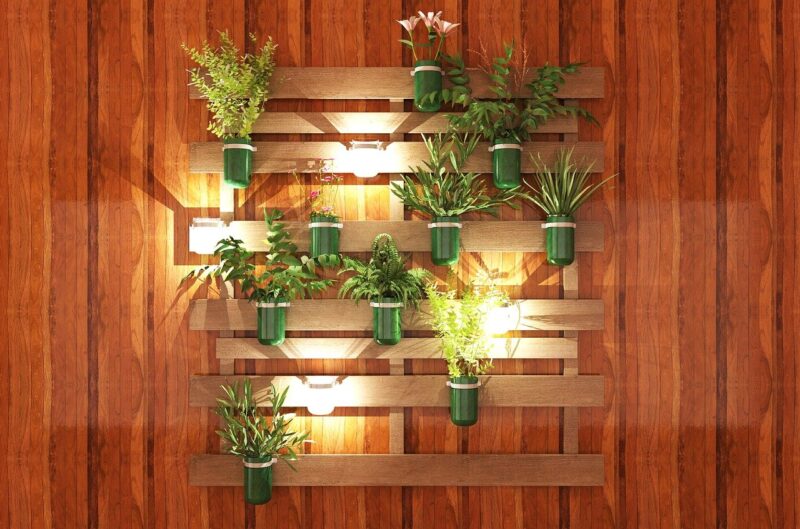 One of the most impressive and unique editions to use when you decorate your home is the idea of rustic styles from wood. This can be done with reclaimed wood shelves, woven wood to make art, or even building editions out of wood themselves to bring that old countryside and frontier-style to the modern home.
Wooden Flower Bins
If you're a gardener or love having nature in your home, you can use wood to help incorporate some plant life into your home. This can be done by having a plant bin, or vase made out of wood and use it to house your flowers.
This is a great way to incorporate some rustic craft into your home with the use as a decoration while also bringing your hobby into your home. You can either craft these bins yourself if you're handy, or you can find ones made in different styles all over the internet!
Rustic Mirror Encased in Wood
A decoration that sports usefulness that you could place in any room would be a mirror encased in wood. This decoration comes in many different styles and wood variations, some just being an outline around the mirror, while others seem to have more wood creeping into the mirror while not stopping its usefulness.
This rustic design is great to bring a little more color into your home with the different accent types that wood offers while giving you a mirror to look into and show your surroundings. This decoration is great for any room and can stand out.
Woven Wooden Art
No home is complete without having some kind of art or decoration hanging about it. This can make your home unique, by displaying different kinds of woven art made completely out of wood! 
These can come in different patterns, such as woven, hatched, interlocked, and many more that show beautiful artwork made out of wood. This adds that rustic feeling of wood, and log cabins while in the modern home.
Reclaimed Wood Shelves
Most decorations made out of wood are either crafted from new wood or reclaimed wood. When wood is reclaimed it is often taken from older furniture, flooring, or homes that have stood for a long period. This shows that the wood reclaimed is very strong and powerful, meaning it can be used and will last for a long time.
Hanging reclaimed wood shelves will allow you to have long-term and durable display space. These shelves support the usefulness of allowing you to decorate your home, while also bringing the wooden and rustic feel to your walls.
Rustic Wooden Lanterns
When you have lights, such as candles or light bulbs, it would be smart to have them put into something so they do not get wax all over the place or cause any burns. One idea is to place them within a lantern made from carved wood. This brings the feel for rustic lanterns back into the modern space while helping you provide light into your home.
These lanterns can be placed anywhere, on shelves, tables, or even hung on walls if that's what you'd like to do. They will bring a great decoration while providing you the use of lighting wherever you'd like to place it.
Carved Wooden Display
You can place a lot of decorations on walls or onto tables taking up some space to provide decoration and fill the space around your home. One of these great decor ideas you can do is to use a carved wooden display that can either be placed on a table or shelf that will show the carved details.
Carved wood is often sculpted from a wooden block or other pieces of wood with a knife or other tool to make designs into the wood. These carved blocks are often handcrafted to have magnificent designs and accents that allow you to display another amazing artwork around your home.
Corner Column for Book Shelf
If you're a bookworm or just an avid reader that is running out of space to place your books neatly and uniquely, then this idea is for you! You can turn that empty corner of your home into a little nook for storing your books, or even a little private space for you to read peacefully in the quiet.
You'd do this by building a wooden column with different shelves attached to it acting as bookshelves. These shelves would then be decorated with your different books, allowing you to have a great rustic, or even cottagecore decoration while having an awesome place to store your books and read.
Oak End Table with Birch Legs
Modern end tables are crafted out of one material and can look quite boring given the fact that they are often square, with square legs, and just maybe having a pull-out drawer. A great change to this would be to have an end table that is crafted out of multiple materials and even avoid the whole square geometry by using more organic shapes.
This would be achieved by making an end table using the circular log style of a tree trunk, and perhaps sturdy branches or boughs from another tree to create an end table! An example of this would be to use oak and birch, each offering their color to make it more colorful, and different sizing to break the geometry of square shapes.
Wood Decor for that Rustic Style
In the days of old when everyone was on the frontier and homesteading, rustic was the most common style as everyone was made of wood or stone. Now, we still have things made of wood, but they are combined with elements of modern decor to make them stunning and functional.
Next time you try decorating your house or look for new decorations, try some of these unique decorations involving wood. You could mix up your modern theme to bring some nature and plant life in with wooden bins or vases, or have a wooden mirror in your bedroom, or even better, use some wooden displays or columns for a rustic or cottagecore vibe.