The shabby chic decorating style and outdoor lighting ideas were introduced for the first time by Rachel Ashwell in the 80s and have since become a classic decoration. Its features are distressed materials, antique furniture, dishes, and cups made of Chinese porcelain, pastel colors and vintage chandeliers.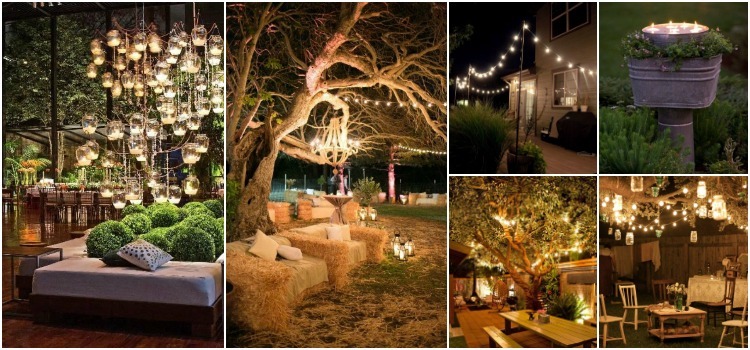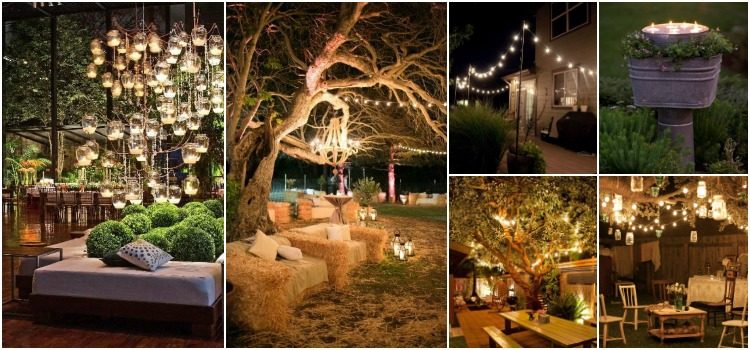 But the shabby chic style does not stop at the front door - it continues in outer space as a mix of English country style and vintage elements reused. So how does one design a garden shabby chic? In reality, the shabby chic garden is not at all easy to create.
1 - Wood Chandelier on Tree Branch Lighting Ideas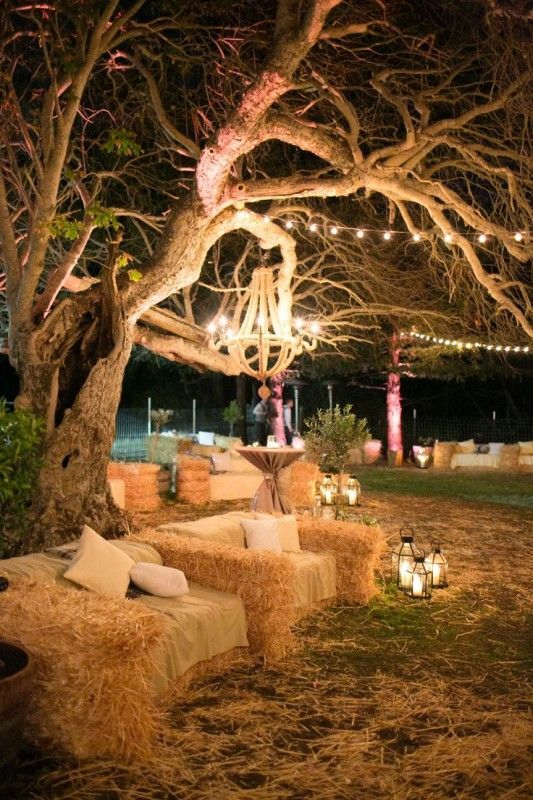 @Pinterest
Hay bales have been a trend in rustic weddings from the very beginning, most likely due to the fact that they are widely available. Do not forget that you can install a wood chandelier in your house ;) Top 5 Best DIY Wood Beam Chandelier Ideas
You can buy the chandelier in the picture here:
2 - Pendant String made with Mason Jars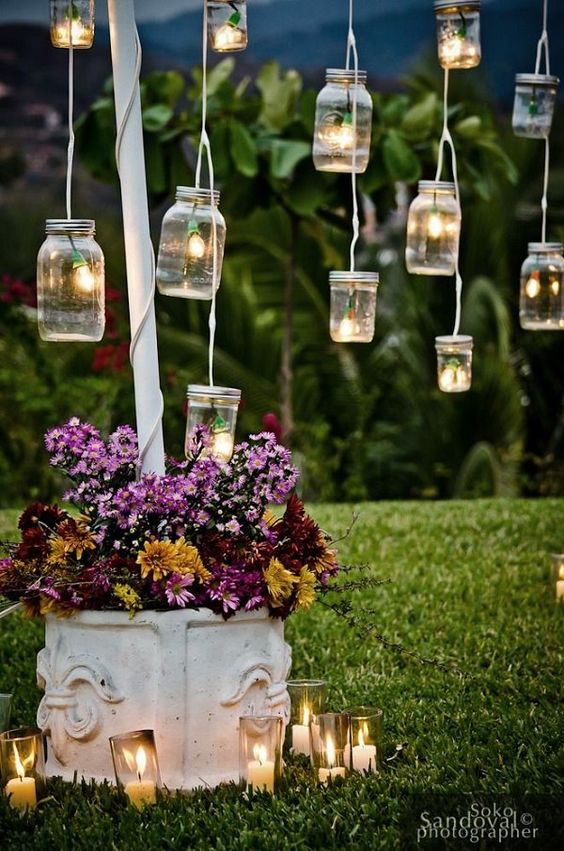 @Pinterest
Nowadays, the shabby chic look, rustic meets vintage, has become one of the most sought-after wedding trends.
3 - Romantic Tree Chandelier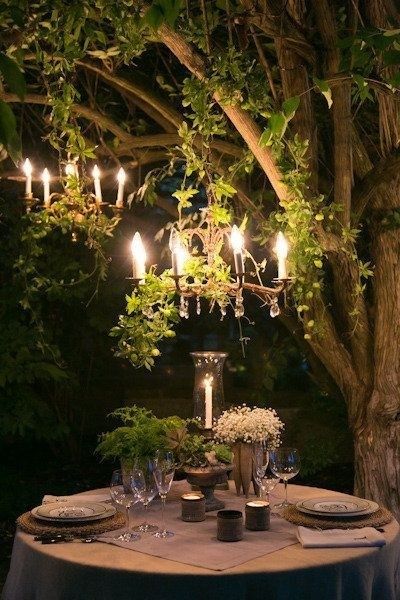 @Pinterest
Just lovely. What a perfect date night option!
4 - Creative Ways To Repurpose An Old Ladder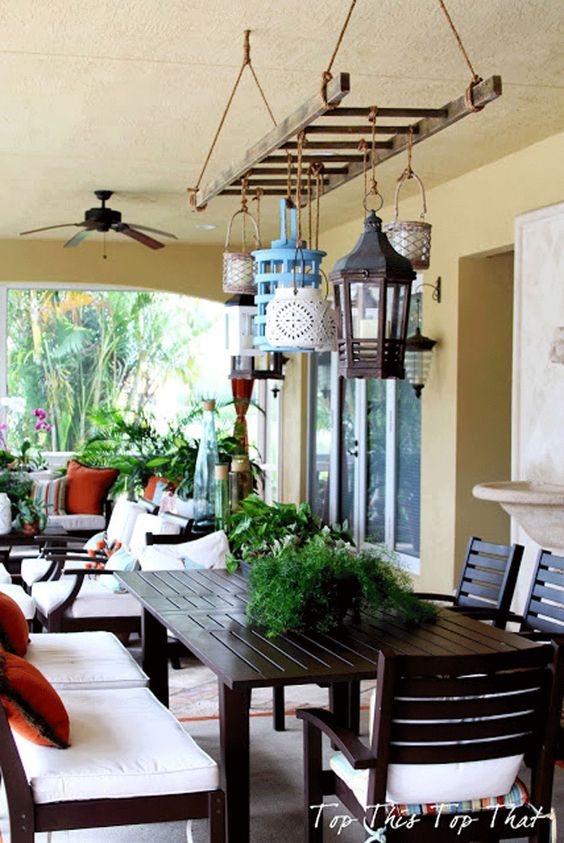 @Pinterest
Create a warm, eclectic look on a porch or patio by using a ladder as a frame to hang lanterns of various shapes, colors, and heights.
5 - DIY String Lighting on a Patio
@Pinterest
This past labor day, we made posts hanging string lights around our deck. I'm so thrilled with how they turned out!
6 - Great Patio Lighting with String Lights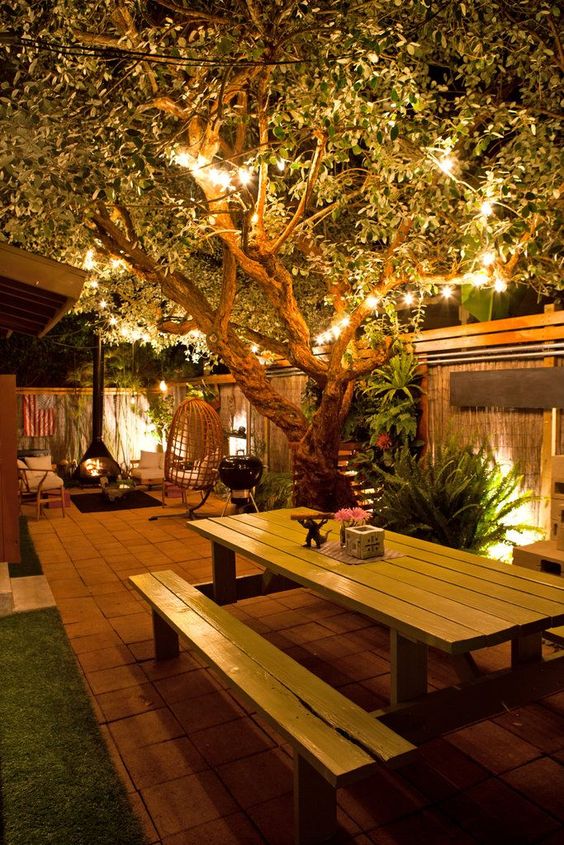 @Pinterest
When the warmer seasons come around, most of us like to spend some evenings (or most!) lounging in our yards and gardens. And about the interior, a wood lamp will be perfect.
7 - Lanterns Hang from Tree Branches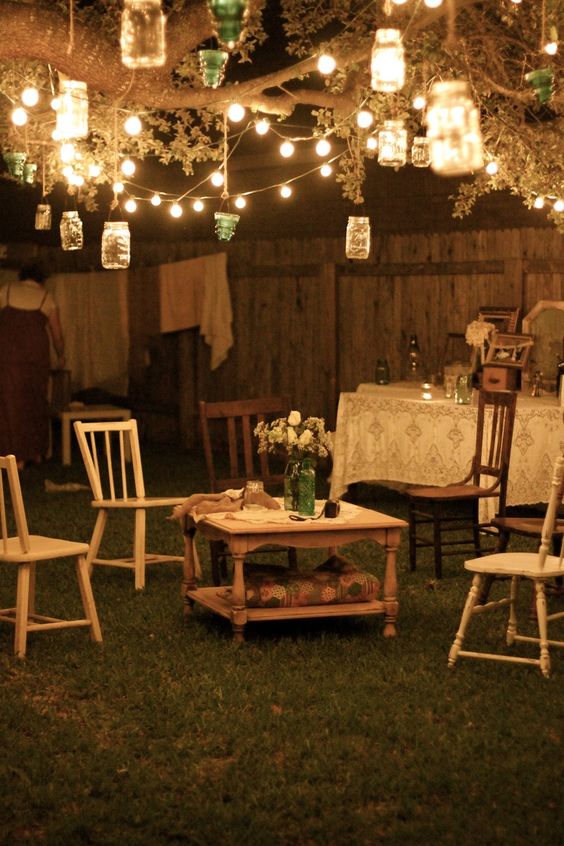 @Pinterest
Garden party at night; lanterns hang from tree branches, and rustic furniture with flowers and lace tablecloths give a charming and relaxed feel. You can also use Whiskey bottle as pendant lights.
8 - DIY Candles Lantern with Recycled Metallic Parts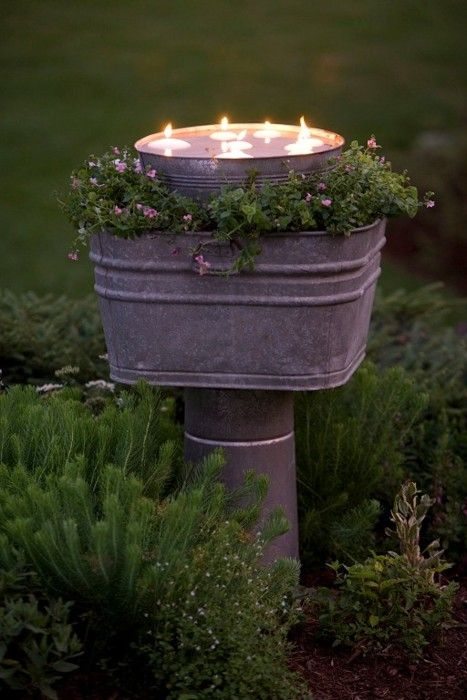 @Pinterest
9 - Romantic Boho Wedding Lighting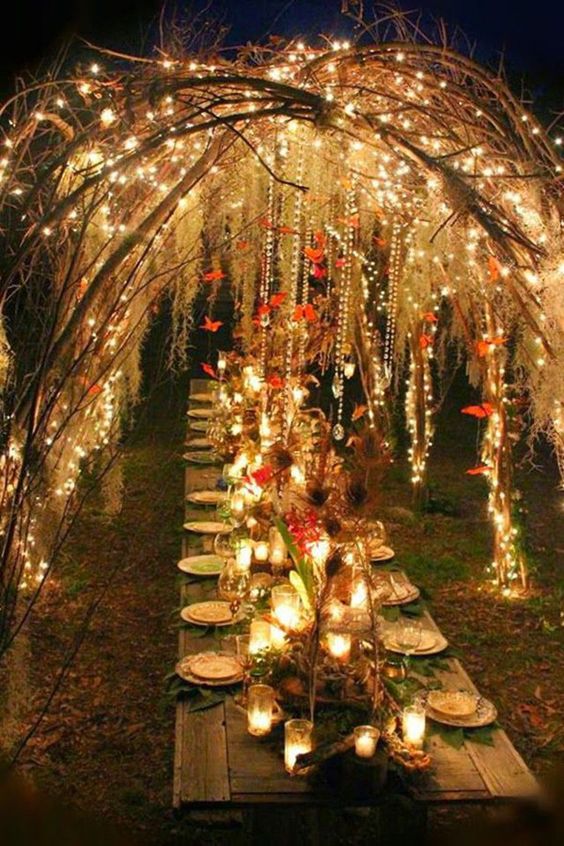 @Pinterest
Romance is the keyword of Bohemian style. For this reason, a Boho wedding has been really hot in recent years.
10 - Beautiful Candles Chandelier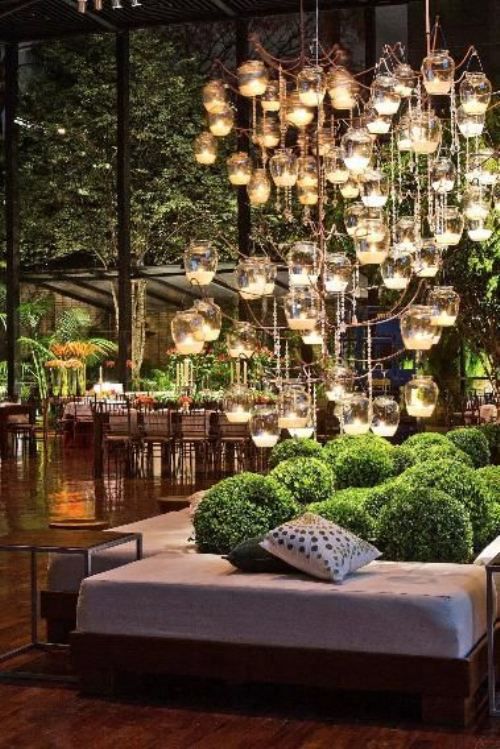 @Pinterest
Beautiful candle chandelier. Pretty gradation of lights. Would immediately be such a focal point in any room.
11 -The veiling for a Bohemian style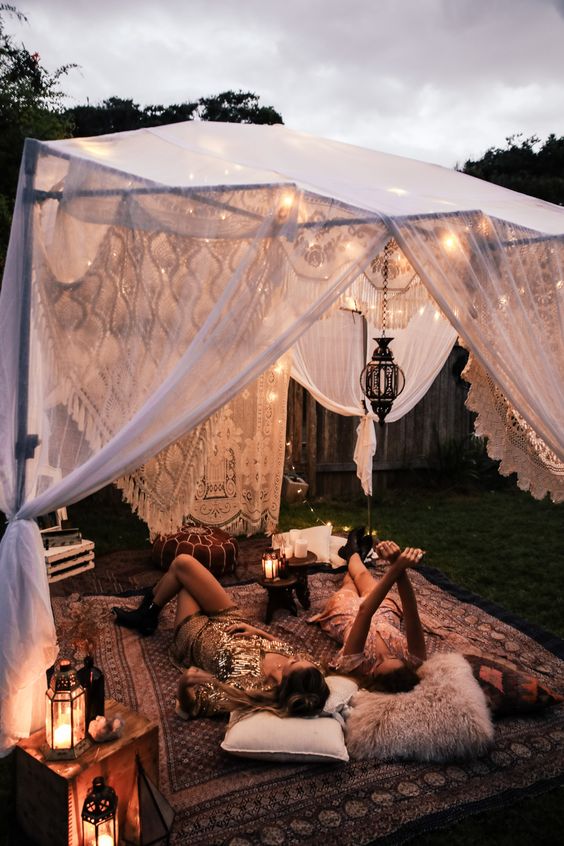 @Pinterest
A romantic atmosphere in a tent with some light garlands.
12 - A simple parasol decorated with light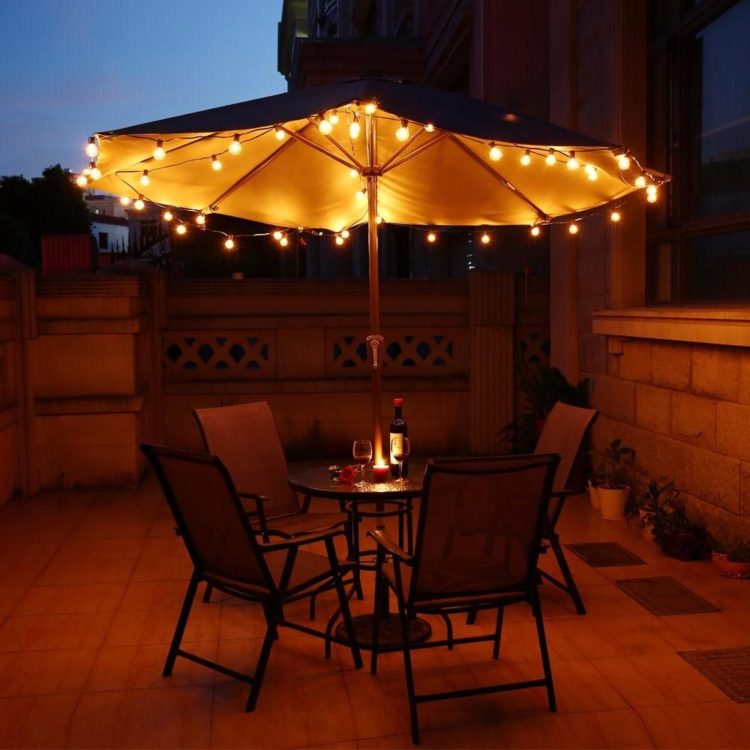 @Pinterest
13 - Boho picnic with light strings
@Pinterest
14 -Diy rattan tiki torch outdoor patio lights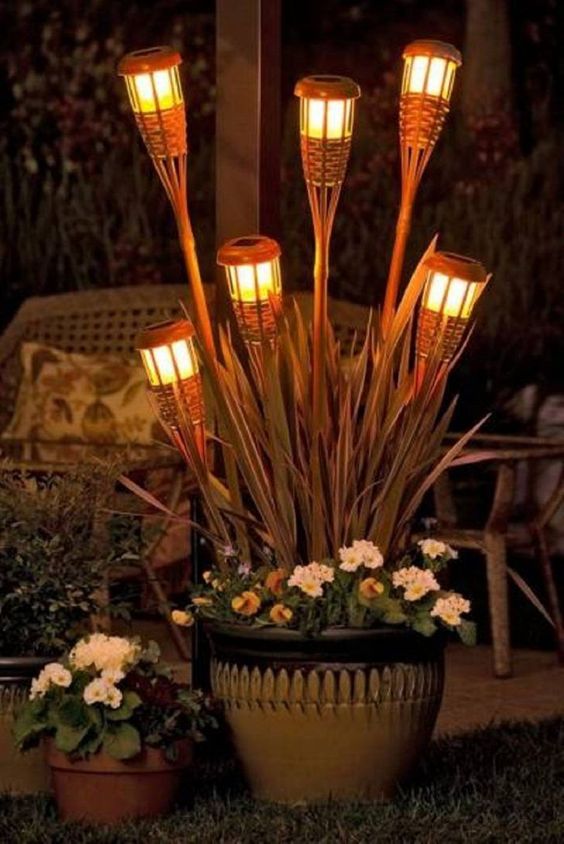 @Pinterest
Superb DIY Outdoor Garden Lighting Ideas.
15 - Some rugs, a hammock, and some light
@Pinterest
Do you love retro? If so, you aren't alone. In fact, now is the time if you are hoping to bring in some of the old traditional and fun elements into your interior design plans. The hottest style right now is a modern take on bohemian interior design.
16 -Pretty terrace in a boho style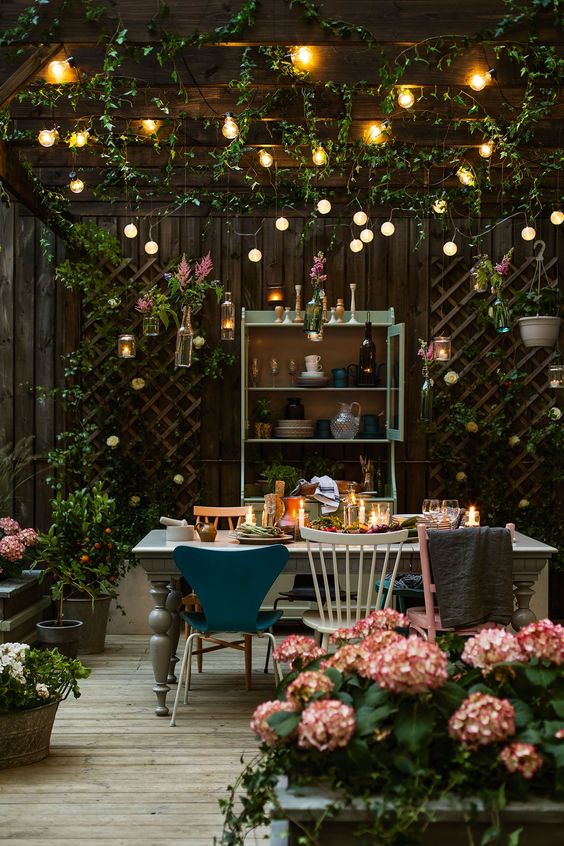 @Pinterest
17 - Many lanterns in a tree
@Pinterest
This would take a long time, but it would be worth it.
18 - Wrap wicker balls in string lights for an outdoor night light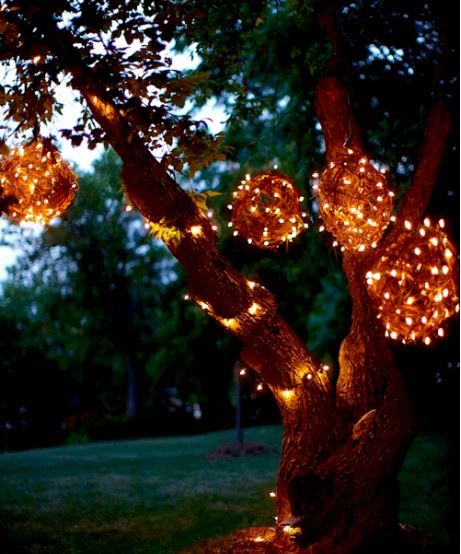 @Pinterest
During the spring and the summer, we all feel smothered from the inside and want to get outside and enjoy the pleasant sun. If you are one of the people who will rather spend most of the Summer time, outside…
19 - Or simple lanterns on a tree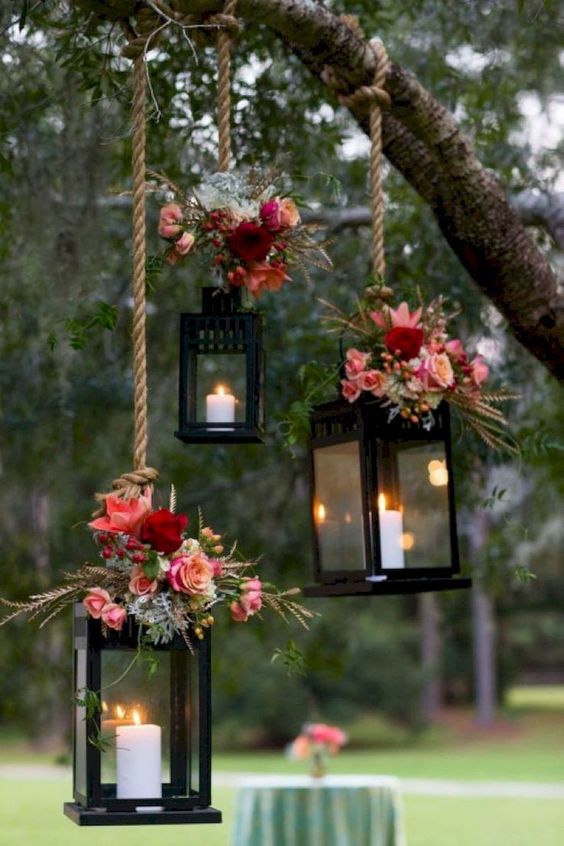 @Pinterest
20 - Bohemian mobile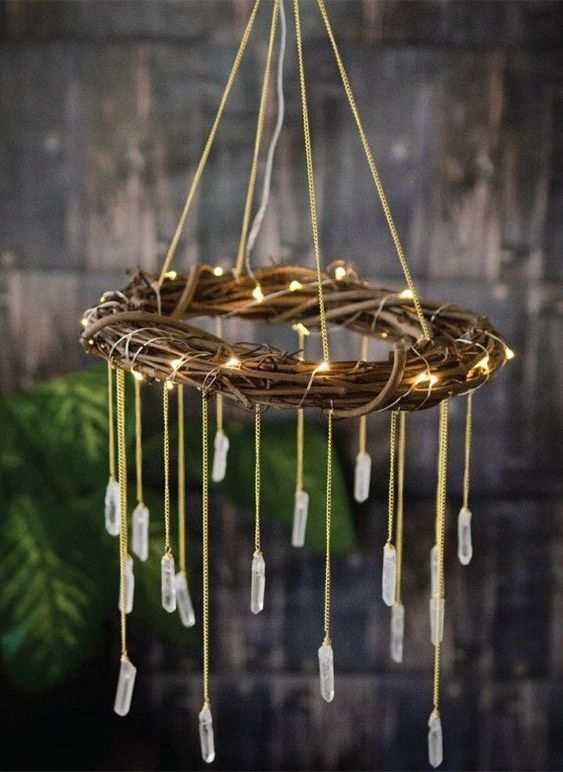 The perfect bohemian chandelier!
Finish! If you want more ideas, have a look at our category: Outdoor Lighting
Best Mason Jars Kits for a perfect outdoor lighting
How beautiful is this lamp?
Click on a star to rate it!
Average rating / 5. Vote count:
We are sorry that this lamp was ugly for you!
Help us find nicer lamps!
Thanks for your feedback!
Last update on 2019-06-18 / Images from Amazon API