#DifferenceMakesUs We too are different! By creating this community of lamps and lights lovers and allowing them to share their most beautiful creations! This free space allows everyone to show his difference and creativity as we do every day by offering ever more original lamps...
Find our selection of 5 Lamps under $1000 we would buy... The dream can become reality thank to a great offer from Etsy shop! Win a $1000 Etsy gift card only by sharing a pic on Instagram of a unique item you own and love, and hashtag it #DifferenceMakesUs to celebrate all our un-similarities.
Here come the lamps, under $ 1000 of course and with Etsy gift card accepted.
1 - Very rare copper table lamp with classic Danish mid-century design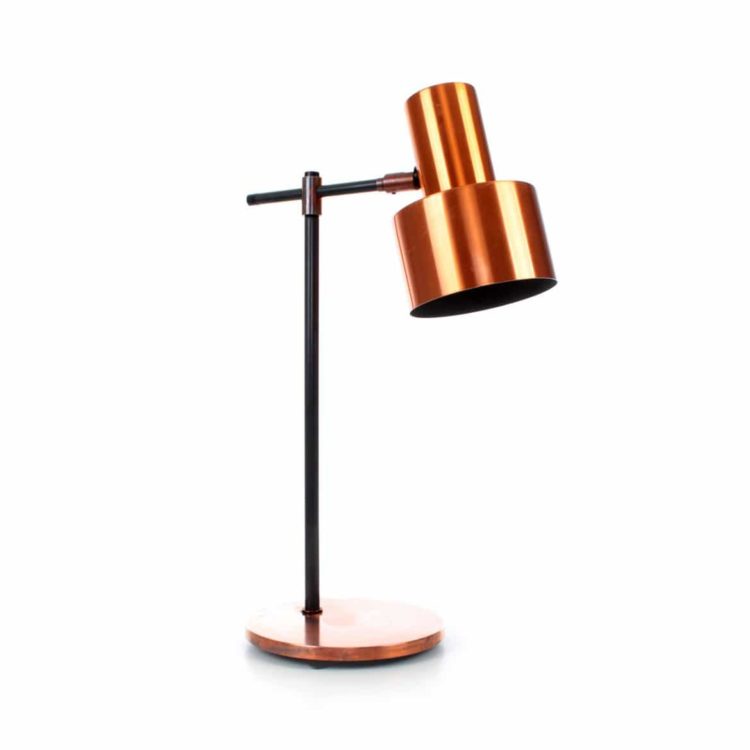 LENTO - table lamp designed by Jo Hammerborg for Fog & Mørup in 1967 - very rare copper desk light in very good vintage condition! A classic Mid-Century table lamp with adjustable copper shade with a white inner coating, dark gray lacquered metal arm and a rounded solid copper base.
When lit, the upper brass part of the shade gets illuminated from underneath through the narrow space between the upper and lower part of the shade. The shade is adjustable both upwards and downwards (for widening and narrowing the illumination), and rotates almost 90 degrees to the sides, enabling you to direct the light to where it is needed - thus making the applications of this classic beauty numerous.
Originally produced in three variations - copper, brass, and aluminum. Two years later Jo Hammerborg and Fog & Mørup introduced The White Line, featuring the LENTO, all in white. The White Line was an opposition to the slightly earlier Rainbow Line by Fog & Mørup and Young Line by Louis Poulsen (which both featured existing designs in new bright colors). This LENTO is the original copper version and it is in very good vintage condition with signs of normal usage and age - the base does some markings and the shade has a few superficial scratches - nothing you would not except on a +40 years old table lamp.
2 - Wood ceiling lamp with 8 Edison light bulbs
Huge wood ceiling lamp made with 8 Edison light bulbs, each with 4 watts. The beautifully weathered old oak tree has not less than 20 years of "maturing" in the forest with special WII history. The length of the branch is 190 cm and the branch is beautifully weathered. The electricity is intrigued in the wood and the shuttles are equipped with black rubber electricity cable. and black silicone cover.
3 - Olive wood slab light fixture with Edison light bulbs
Large edge Olive wood slab light fixture with Edison light bulbs, Olive wood comes from orchard trees that no longer produce olives and were replaced with new trees. Looks great over a dining table, kitchen island, kitchen peninsula, desk or even in a foyer. Makes a great statement piece in a living room or office as well!
4 - Huge floor lamp made with a weathered old oak tree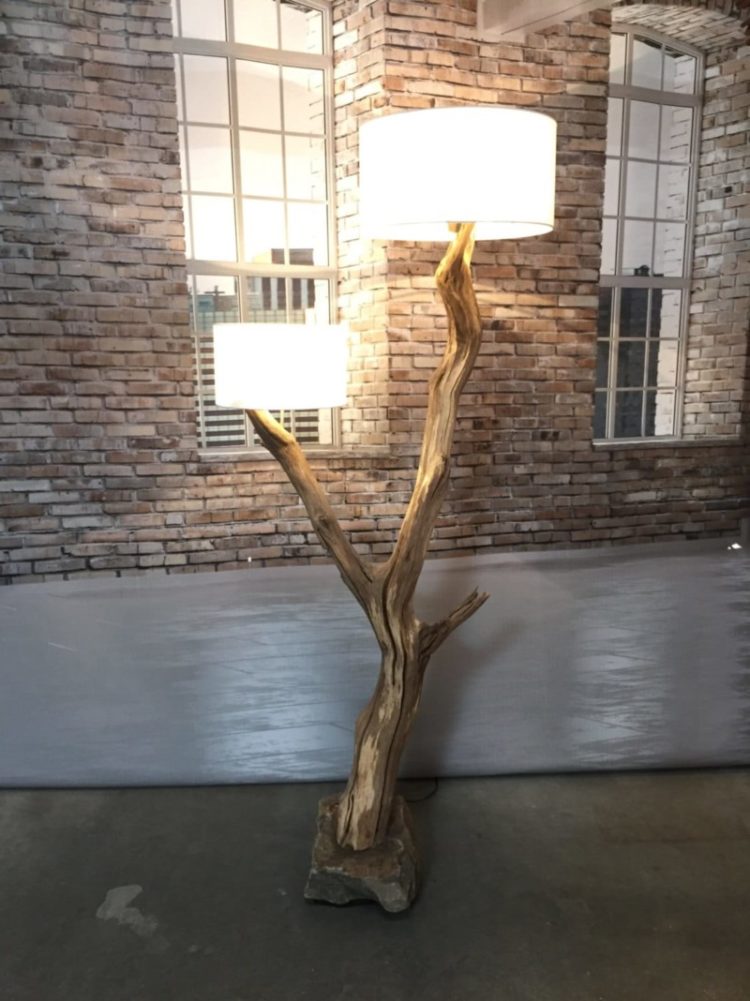 Huge floor lamp made with a weathered old oak tree, also available with real wood veneer lampshade.Oak branch Natural weathers and Natural wind dried, the color varies from light brown to gray weathered wood tones. The contraction scour in the wood caused by natural drying, and give the wood a very rustic look that fits perfectly in a modern or country living.
The floor lamp is 210 cm high. (Including shade).
The electrical cable is concealed almost invisible so you do not suffer from loose cables.
Shuttles are made of polished steel with E27 sockets and can best be provided with a 9 watt dimmable LED lamp.

The floor plate is made of a dark natural stone which gives a proper balance to these natural arc lamp.
5 - XLarge orange industrial chandelier with globe bulbs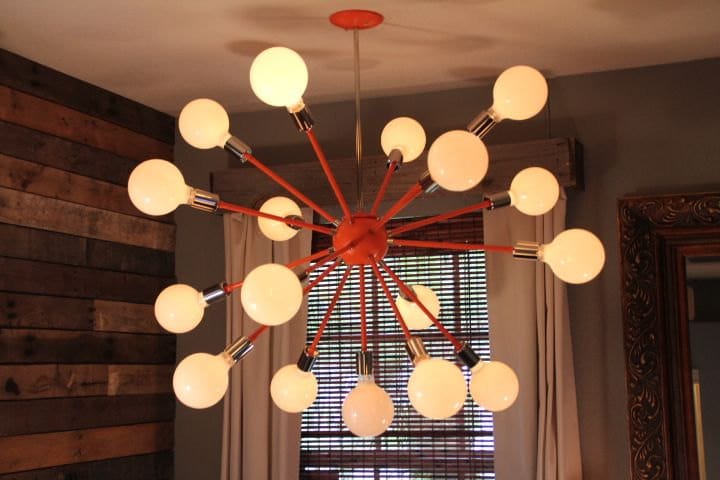 XLarge handmade vintage inspired 17 bulb steel and aluminum industrial sputnik chandelier with modern style sockets and huge classic sputnik globe bulbs (standard base). This beauty looks massive with the large globe bulbs. Also has some chrome detailing on the arms that add a unique look. Looks great in any foyer, kitchen, living room and over any dining room or kitchen nook table. Can also be hung as a pair over bedside tables.